Viewing 17 of 17 products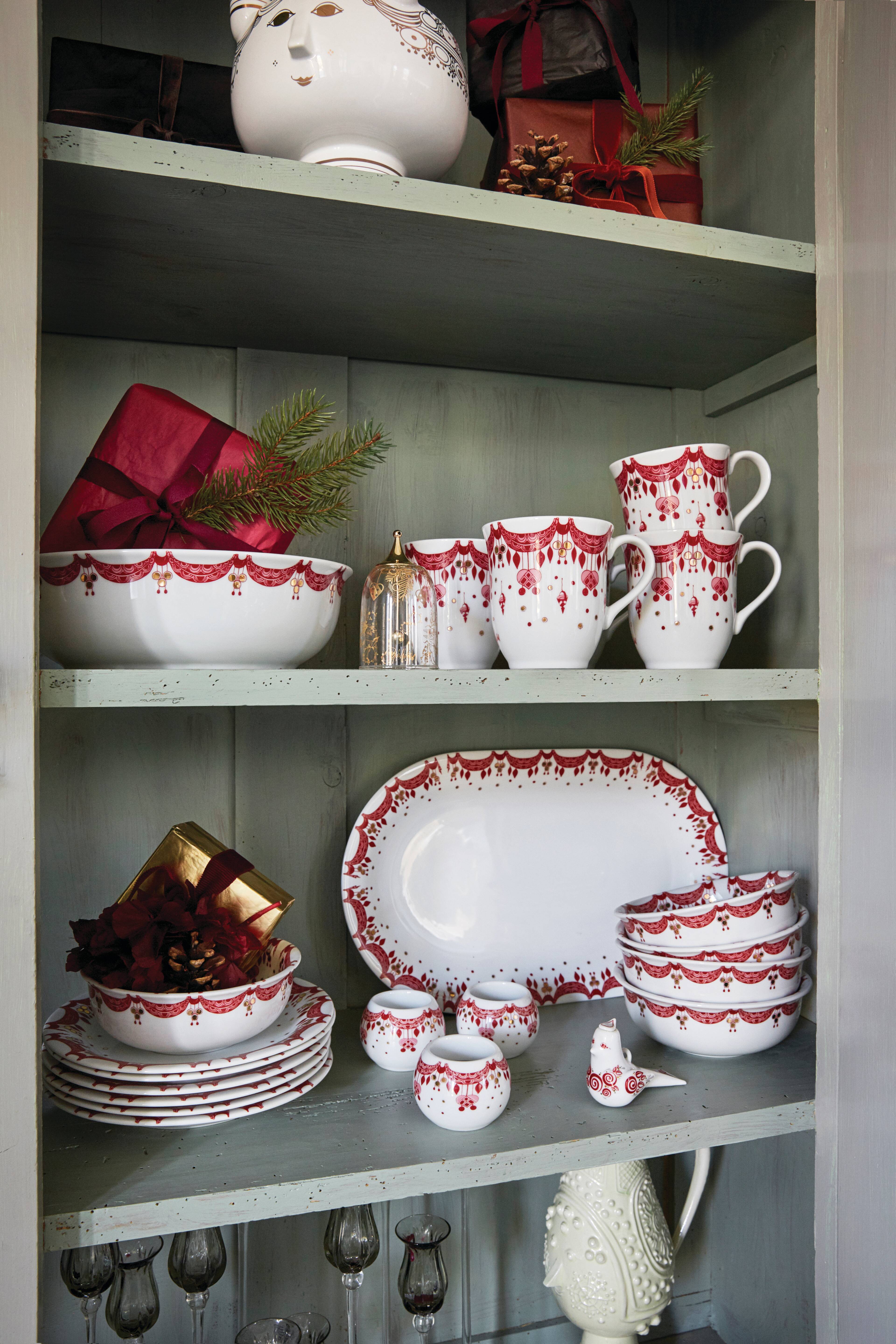 Set an immaculate, nostalgic Christmas table with a Bjørn Wiinblad Christmas dinner service
Bjørn Wiinblad's Christmas service makes it possible to create a nostalgic, immaculate Christmas table for the whole family. The Christmas dinner service is Danish design, and therefore really high quality and craftsmanship, but the design and decoration are what make it the ultimate Christmas dinner service. If you just love classic Danish design, a timeless look and nostalgic undertones, you'll love the Christmas dinner service from Bjørn Wiinblad's Guirlande range. The Guirlande range's Christmas dinner service consists of more than 16 products, including Christmas mugs, Christmas bowls, Christmas tea light holders, Christmas confectionery dishes, Christmas serving dishes, Christmas plates, Advent candle holders, Advent candles and much more. In addition, the dinner service, with its red and gold colours, fits in well with virtually all Christmas decorations, making it easy to implement in the home during the Christmas season, and if you already have some of the products from the Guirlande range, you can create a common thread throughout your home with this Christmas dinner service.


Presentation is important
When serving your delicious, home-made Christmas food, serving it in beautiful bowls and dishes with a festive feel improves the presentation of the food. In purely practical terms, you don't need to have big pots and pans standing on the table either. This makes food more appetising to look at, as you can see that care has been taken with the food when it is also served in a beautiful and appetising way. We tend to eat with our eyes. So it's important to think about presenting the delicious food in a stylish and aesthetic way, as it will then appear even more appetising. And the Christmas spirit is also crucial at the Christmas Eve dinner table, and it is virtually guaranteed to embrace everyone with Bjørn Wiinblad's Christmas dinner service. 


A story about an artist
Bjørn Wiinblad was born in 1918, and throughout his life he lived and breathed for his art. To this day, he has also been described as an artist with a thousand faces. He managed to reinvent himself throughout his life and never stagnated, when it came to finding new places and new materials that he was able to decorate. Bjørn Wiinblad's finely decorated pottery, his imaginative theatre settings and tapestry, his smiling girls such as Eva and Rosalinde, the posters that you will never quite finish exploring and, not least, his bowls, candle holders and glasses. All of them are infused with a joie de vivre and energy that are unique in Danish and international art and design.


Add art and Danish design to your home
Bjørn Wiinblad's joy of creation was eclectic. He painted larger-than-life oriental ladies and whimsical, mythical creatures – and spread joy, magic and imagination among the people at a time when minimalism was at its most dominant. His imaginative brush strokes swept into every nook and cranny of his art, and his urge to decorate kept his brush active throughout his life. Bjørn Wiinblad's unstoppable urge to create, his extravagant oriental style and boundless talent made him a world artist the like of which Denmark has never seen before. The story of the happy multi-talented artist is celebrated in Bjørn Wiinblad's authentic and adventurous universe in a modern, functional idiom. All this can also be seen clearly in the beautiful Christmas dinner service, which is so much more than just tableware for the dinner table.