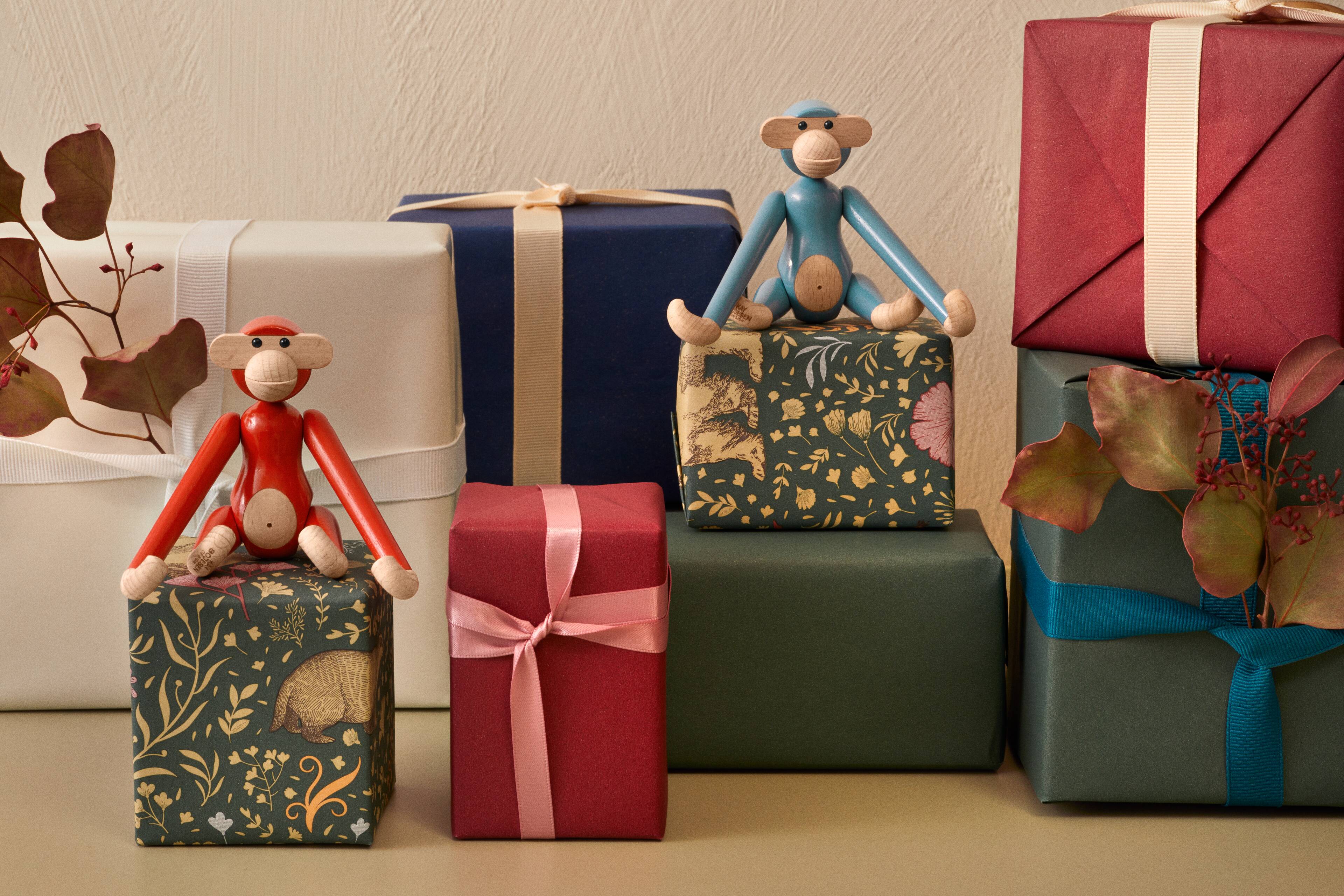 Find the perfect
Advent gift
Advent gifts for adults and children
Advent gifts are a great way to surprise your loved ones. That's why we've put together a selection of lovely gift ideas for Advent gifts that you can give to family and friends this year. With our wide range of Danish design classics and functional products, you can give gifts that create joy and memories day after day, year after year. Treat your children or surprise someone special with a high-quality design gift. You can find gifts suitable for design-loving and style-conscious recipients. We have also gathered a selection of decorative items with classic designs. These will always adorn your living room or kitchen while you're cooking.
What are Advent gifts?
In December, the days become shorter and darker. We therefore look forward to Christmas, when the anticipation of receving gifts is finally fulfilled. A little bit of light during the dark period is the feeling of Christmas cosiness, where we bake Christmas cakes and switch on Christmas lights in the streets, houses and homes. Every Sunday in December, we light a candle in the Advent wreath and count down to 24, when it's Christmas Eve.
Many people choose to light their Advent wreath at the same time as they give a present to their spouse, children or grandchildren. It can be a great way to harness the excitement of Christmas Day, especially for families with young children who can hardly wait until Christmas. At the same time, an Advent gift is also a great way to delight your loved ones with a little surprise and extra kindness during the dark winter season.
Advent
In many countries, Advent is celebrated every Sunday throughout December, when a candle is lit in the Advent wreath and people gather for closeness and cosiness. Advent is associated with Christianity and comes from 'Adventus Domini' in Latin, which means 'The Lord's Coming' in English. So it's the waiting time before Jesus' birthday on 24 December. Advent is a cosy tradition, where many people make Advent wreaths that decorate the home beautifully.
What can I give as an Advent gift?
There's no tradition of what to give as a gift to your loved ones. It can be small gifts in the form of tea towels and other textiles, or larger gifts such as a vase, a Kähler tealight house or one of our beloved Kaj Bojesen wooden figures. All our designs are made to create joy and add a personal touch to your home.
Parents can give their children Advent gifts as a countdown to Christmas Eve. On the other hand, children can also give gifts to their parents. You might also be invited to a cosy Advent event and want to bring a gift for the host or hostess. Whoever you need to find gifts for, we have a great selection that can't fail to please your loved ones.
Advent gift ideas
At Rosendahl.com you'll find a wealth of ideas for Advent gifts, both big and small. If you are lucky enough to be given a wish list for an Advent gift or Christmas stocking, you can also find inspiration for wishes on this page. Advent gifts can be hard to find, especially when there are four of them. But we've made it easy for you and put together our best selection of carefully selected interiors for the home.
Advent gifts for him
Looking for a gift for your husband, father, son or brother? Finding the perfect gift for the man who has everything – except a wish list – can be a massive project. That's why it's a good starting point to begin by considering his interests.
Advent gift ideas for him could be one of our design favourites from lovely brands such as Holmegaard and Rosendahl. Perhaps he enjoys cooking and would appreciate one of our chopping boards. Or you might like to give him an apron to help him become a master chef. Does he enjoy a cold drink after work on Fridays? Then a shaker can be the ideal Advent gift for him. If wine is more his favourite tipple, you can find inspiration in our selection of wine glasses, carafes and wine coolers. It will undoubtedly be a great gift that captures his interest. Find more inspiration for your Advent gift for him on this page.
Advent gifts for her
Many women love getting things for their home. This could be vases, decorative items or kitchen utensils. Some great Advent gift ideas for her are the Danish design classics and functional products that bring pleasure every day, year after year. Rosendahl.com has lots of lovely things for the home in the form of flower pots, wooden figures, decorations and other beautiful things for the home that can bring forth many smiles and great happiness in everyday life. A lantern might be the perfect gift idea – she's sure to appreciate it.
Whatever you give your friend, girlfriend, sister, mother or any woman in your life, it's a kind thought that she'll appreciate and enjoy. Find the perfect gift for feminine pampering from gorgeous brands such as Kähler, Holmegaard, Bjørn Wiinblad & Lyngby Porcelæn. You can find plenty of inspiration for your Advent gift for her on this page. 
Advent gift for your partner
For the one you love, only the best will do. That's why Rosendahl.com has plenty of inspiration for gift ideas that bring both life and joy to your home. The numerous options give you ample opportunity to find the perfect gift.
With our wide range of iconic designs, you can give presents that create joy and appreciation in any loved one. An obvious Advent gift for your girlfriend or boyfriend is a personal gift where it is clear that you have given plenty of thought to your choice of gift. For example, does your partner love cooking? Then she'll probably love a couple of new plates to add to her dinnerware collection. Or do you know if she collects Kähler interior objects? Then she'll be thrilled to receive a beautiful vase from Omaggio or Hammershøi. With a timeless design, you can hardly go wrong. And after all, it's all about finding a gift that you think reflects your partner's spirit. And if it does that, the gift is sure to be perfect.
Advent gifts for children
Christmas is a party, especially for the youngest ones. Perhaps they have a small advent calendar where they open windows every day in December and this helps count down the Sundays in Advent and the days until Christmas Eve. Many children look forward to Christmas so much that an Advent gift can help with the joy of anticipation, so that time doesn't feel so long.
For the youngest ones, we have a great selection of gifts that they can take with them throughout their lives. Brimming with playfulness and fun, Kay Bojesen's fairy-tale wooden characters give you the chance to give beautiful gifts to young children in your life. It could also be a little piggy bank, where the young child can store coins and save up for things they want.
Advent gifts for teens
Being a teenager isn't always easy. There's a lot of stuff happening with the body and mind, and it can sometimes be difficult for parents to understand what's going on in a teenager's life. This also applies when it comes to finding a gift for your teenage son or daughter. When looking for a good gift, it's a good idea to go for something timeless that can be a loving memory, not only now but also later in life. Our wooden figures from Kay Bojesen are a great advent gift for a teenager, which we can almost certainly promise will be received with enthusiasm.
Advent gift for parents
There's nothing better than surprising and delighting people you care about. If you want to please your parents, an Advent gift is the perfect idea. One of our timeless classics will be a gift for life for parents of all ages who love Danish design.
Buying porcelain as an Advent gift is extremely popular, and you can easily find some good suggestions among our large selection. We have a wealth of gift ideas for table settings, which can adorn the dinner table for everyday use and special occasions. Both your parents will love an iconic design such as an Arne Jacobsen watch, which comes in different designs and colours, or home textiles that can be used in the living room, bedroom and kitchen.
Warming hearts
Just as children look forward to unwrapping gifts, adults are also happy to receive an Advent or calendar gift. You don't need to spend lots of money to bring joy to your loved ones. The idea of giving an Advent gift is to show kindness and love for your loved ones. The most important thing to remember is that it's the thought that counts. For most people of all ages, it's the cosiness and anticipation of unwrapping one small item every Sunday that matters most. Discover the joy of giving with our gift selection, which is sure to appeal to everyone on your list, from young to old.
Delivery within 2–6 business days

Free shipping on orders from € 85

Extended right of return until January 23, 2024

Free gift wrapping with purchases from € 80
We preserve and develop Danish design icons so that both present and future products can be part of the brands that have helped create our Danish design culture.