Find the perfect
Confirmation gift

GIFTS SPECIALLY SELECTED FOR THE CONFIRMANT
Here you have the opportunity to find the perfect gift for the confirmant. We've gathered both the timeless classics and the new modern design icons side by side. We offer Danish design that can both be used and admired – giving you gift for life. We have gathered the best gift ideas to guide you to the perfect gift for the confirmant.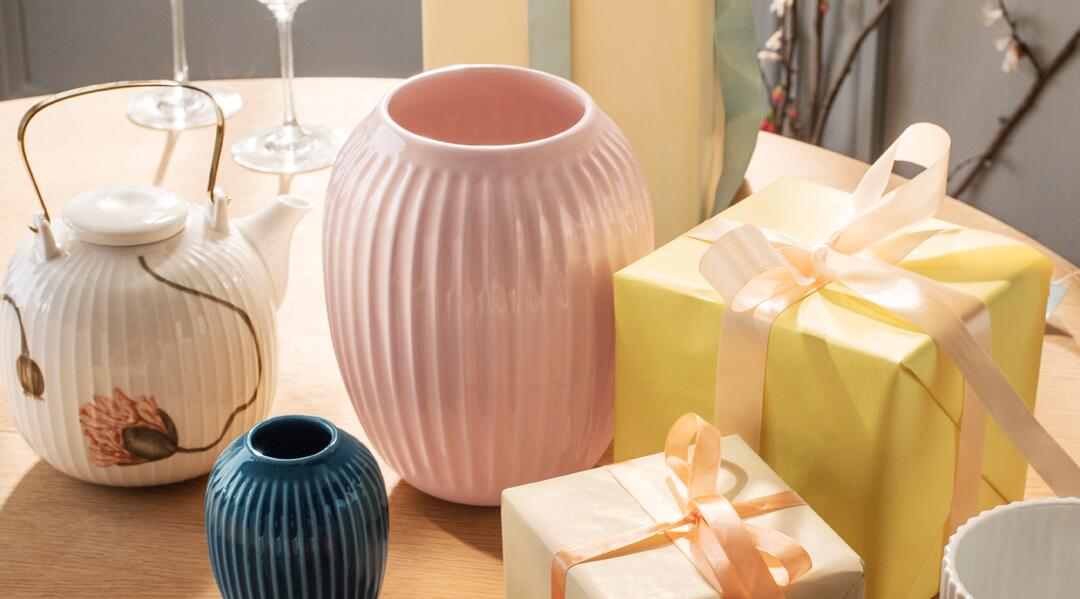 Great ideas for confirmation gifts
Do you know someone facing confirmation soon? Confirmation is the first big day in a young person's life, and of course you want to help celebrate it in the form of a cherished gift. If you are looking for gift ideas and tips for the party ahead, you will find guidance on this page. We have gathered the best confirmation gifts for both boys and girls, and you can find gifts in all price classes, for all tastes. Here's our guide to confirmation and 'nonfirmation' gift ideas that appeal to the younger segment.
Good confirmation wishes
When one is are confirmed at the age of 13–14 years old, it marks the transition from being a child to a teenager, and at that age there are many changes to both mind and body. It can therefore be particularly difficult to find a good gift. Toys aren't a hit at this age, but the young people are still too young for the home gifts one normally receives upon leaving home. So what is a good confirmation request.
These are the timeless gifts. They go beyond time and age, which is why you can be sure that a timeless gift will be appreciated. For example, a table flag that can also be used for birthdays and other celebrations. Alternatively, you can give the popular Standard-Bearer,  inspired by the Queen's Guards from Amalienborg Palace. This gift is guaranteed to bring joy and smiles on the day of confirmation and every year on the birthday table.
How much does one spend on a confirmation gift?
In our confirmation gift suggestions, you can find gift ideas in different price ranges. There is no shortlist of what the confirmation gift should cost – nor is the price of the gift the most important part of the day. Many parents give the most expensive gift, and friends and the rest of the family spend around DKK 500. You can also choose to combine a gift and thus be able to fulfil one of the confirmand's larger gift wishes. The most important thing is that there is thought behind the gift and that it has been chosen based on an interest in the young person. Therefore, you should spend the amount that suits you best.
Great ideas for confirmation gifts
There can be a big difference between confirmation parties. Some confirmands have a long, detailed wish list with very specific items, while others just cannot think of a single gift wish. However, confirmation is one of the few occasions when it is completely acceptable to give a cash gift. In fact, many confirmands want money, and the day of confirmation can be a profitable day for the young man or woman. However, giving money can seem a little tame or boring. If you want to give a special gift that celebrates the important day of their lives and reminds them that you helped celebrate them, we have a range of great gift ideas for you here.
A personal confirmation gift is at least as popular as a cash gift. It is also an obvious choice, as the day marks a special milestone in the young person's life. If you're looking for a gift with sentimental value, you'll find many great suggestions in our assortment. For example, you could choose to give the classic monkey from Kay Bojesen, which is a beloved Danish design piece that you have probably seen hanging from a bookcase or shelf in most homes. The imaginative wooden figures from Kay Bojesen are like a cute friend who moves with the person throughout  life – from the room at home to a home of one's own. They have an emotional value while being timeless. So you can be sure that this classic will be well received and bring joy.
Finding the perfect gift for a confirmation party can be a difficult balancing act if you don't have a wish list to start with. But here at Rosendahl.com you'll find gift inspiration and wonderful gift ideas to choose from, so you'll get there. We're sure you'll find a gift that both the confirmand and parents will appreciate now and in the future. Ultimately, it is the thought that counts and all you have to do is give a gift that brings joy. Whether a personal thing from you, or a timeless gift that will always remind the confirmand of the big day, is up to you and the recipient.
A holiday event
Every spring, the Dannebrog flags and pennants flutter from churches and homes, while confirmations are celebrated around the Kingdom of Denmark. But what is it really that you say yes to in the church? Confirmation comes from the Latin word "confirmatio", which means confirmation, and it is largely what the ritual is about. When one turns 12–14, one's belief in God is confirmed by a ritual in the church, just as when one was baptised as an infant. The confirmation can therefore be seen as a second christening and as the first big day of a young person's life.
In Denmark, confirmation is celebrated with a big party, where family and friends gather and celebrate the young confirmand with gifts, speeches and party songs. Young confirmand girls wear white dresses and their hair up, while the boys have their first suit, so they are ready to step into the adult ranks.
Confirmation or 'nonfirmation'
Not everyone chooses to christen their children, which means that they will not be confirmed, either. Many therefore choose to hold what is knoiwn as a 'nonfirmation' for their child instead. Where a confirmation is a confirmation of a child's baptism, a nonfirmation is a celebration of the transition from childhood to adolescence without the ritual of the church. Here, the young person and the family choose how to mark the occasion, and while some young people choose a party that resembles the confirmation party with gifts, others choose, for example, a trip to Iceland or the US. The nonfirmation is still an important day when the young boy or girl is in focus. If you're invited to a nonfirmation party, it's a good idea to ask the family for a wish list so you know what you can give. Otherwise, a nonfirmation party is usually proceeds similar to a traditional confirmation party.
Confirmation gifts for him
Need a confirmation gift for him? Luckily, you'll find good ideas on this page. When it comes to finding the perfect gift, always consider what what sort of person he is before you buy one. Is he a calm type or a boy in a hurry? His interests will influence how much he likes the gift. You can't go wrong with an affectionate gift though, because it will suit all personalities and will have the special ability to delight for years to come.
For example, you could consider giving him an Arne Jacobsen clock, which come in several models. Arne Jacobsen's clocks are timeless and created with a number of imaginative details that make them stand out. Our range includes both table clocks and wall clocks, which are perfect confirmation gifts for boys. He can use a table clock as an alarm clock on the bedside table. If you want to look great, you can also give him a wall clock, which come in different sizes. With so many different designs to choose from, you'll be able to find a model that suits him.
Confirmation gifts for her
Many girls are good at making wish lists, and you may therefore be lucky enough to have received some gift wishes, so the task is a little simpler to do. Remember to ask for one if you don't get it automatically. If the young lady has no special wishes, you have to be creative, but luckily help is at hand. 
Many girls of confirmation age have already started to take an interest in decorative objects such as vases and designer sets, which can be used both in their present room and when they leave home. A good confirmation gift for her could thus be a beautiful candleholder, lamps, posters, a Holmegaard or Lyngby mug. You could give her one of the classical lighthouses from Kähler, which will be a beautiful decoration during the Christmas season and beyond, or a beautiful lantern to stand on the window sill. There are many options when it comes to finding the right gift for the confirmand. Adding a personal card and wrapping the gift beautifully with a personal touch of items from nature will ensure that the gift is remembered.
Delivery within 2–6 business days

Free shipping on orders from € 85

Extended right of return until January 23, 2024

Free gift wrapping with purchases from € 80
We preserve and develop Danish design icons so that both present and future products can be part of the brands that have helped create our Danish design culture.