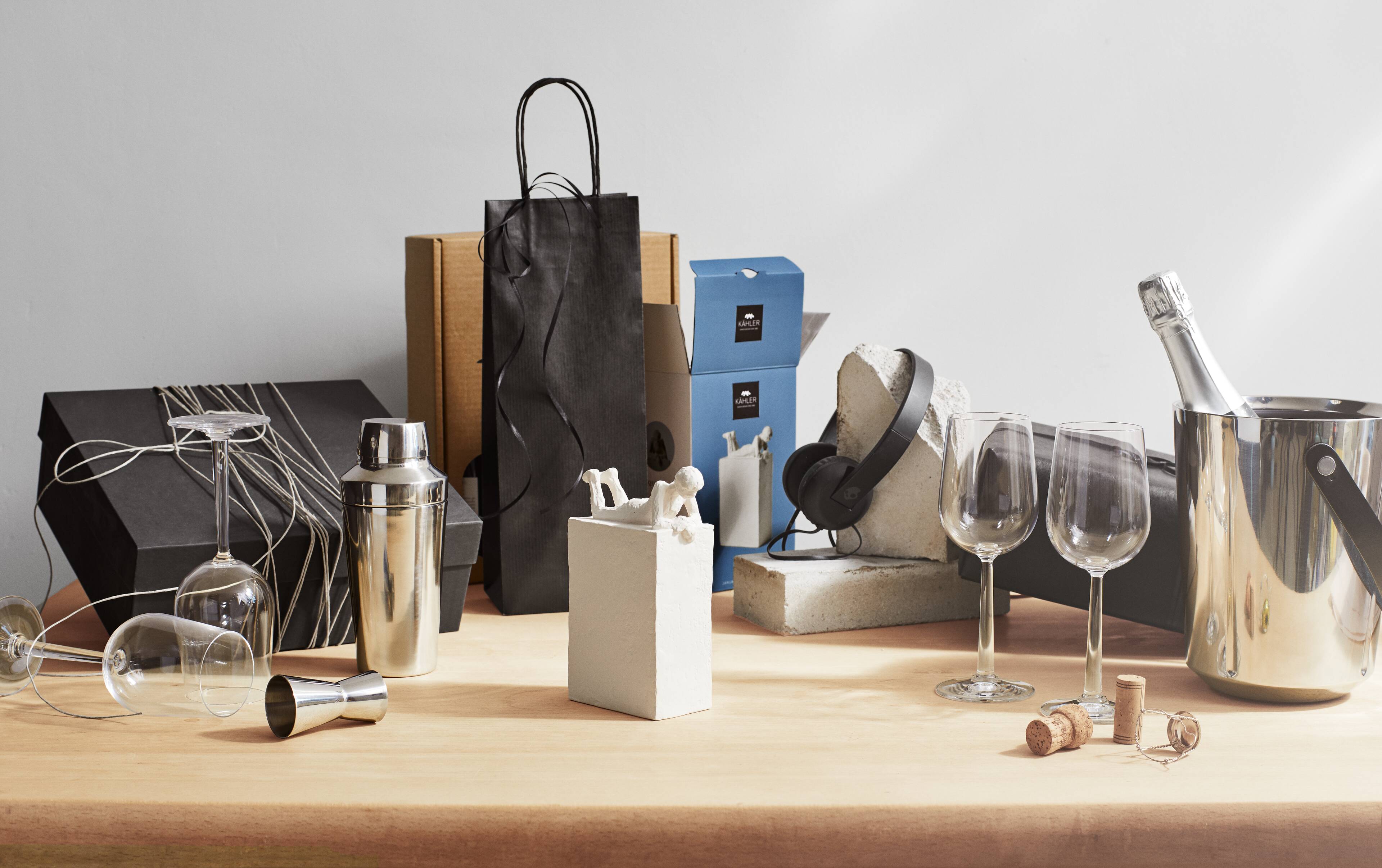 Father's Day gift
Find the perfect Father's Day gift
What gift will you give to your dad on Father's Day? You probably consider the same question every year, because it can be tricky to find just the right gift for the occasion. Especially if your dad already has everything – apart from a wish list. That's why we've made it easy for you to find some great gift ideas and give your dad something he'll love. Here's a list of our gift ideas for him.
What is Father's Day?
Danes celebrate Father's Day on 5 June, which is also their Constitution Day. Many people have half a day off work that day, so it's the perfect opportunity to prepare surprises and spend quality time with your dad or the father of your children.
Whilst Denmark celebrates on 5 June, other parts of the world celebrate on different dates. In the USA, where Father's Day tradition originates from, the day is celebrated on the third Sunday in June, while in Germany it is celebrated on Ascension Day and with plenty of beer. Father's Day is a fantastic opportunity to show the father in your life that you appreciate him and that he is doing a great job. You can do this by spending time with him or by giving him a gift he'll love. The idea is to make him happy, and you know best how to do that.
The story behind Father's Day
Mother's Day has existed since 1872. But did you know that Father's Day was first introduced 40 years later? This happened because 27-year-old Sonora Smart Dood from the US believed that fathers shouldn't be cheated from being celebrated and appreciated. She had lost her mother as a little girl and grew up with five sisters and a father who had done his best for the children. That's why the idea came to her during a church service on Mother's Day – fathers should be celebrated on an equal footing with mothers, and not just her own, but fathers all over the country. Her idea gained support and the first Father's Day was then held in June because that was when his birthday was. In 1924, Father's Day was recognised as a public celebration day in the United States and has since spread around the world. Sweden was the first other country to celebrate the day in 1931, while Denmark adopted Father's Day in 1935.
A great gift for dad
This commemorative day is a day where we focus on all the fathers in the country and give them some extra attention. But how should you show your father or your children's father that you have remembered him on Father's Day this year and appreciate him all year round? That's a really good question.
We all want to give gifts that he'll love, but what makes a great gift? Is it to make breakfast for him that you can eat together? Or should you buy him a special kind of gift? There's no tradition of what you should give your loved one. It could be a small thing where it's mostly the thought that counts, or you could choose to give him a bigger gift. Something he didn't know he was missing, but you know he'll like. Whatever you give your father, the father of your children or any father in your life, it's a sweet thought that he'll appreciate and enjoy.
Dad deserves the best
Your father has probably always been there for you. When you had to mend your bike tyre, and when you had to go to sports events and football in the rain, and couldn't get there by bike. Now you're an adult and may have your own children, and then granddad puts himself at your disposal to fetch and carry, look after the grandchildren and play with them. Perhaps you haven't always been so good at thanking him for everything he's done, but now you have the perfect opportunity. Need gift ideas for Father's Day? For the man who's always been there for you, only the best will do. At Rosendahl.com, we have therefore made it easy for you to find inspiration for gift ideas that make him happy. You can find many items for the home, from iconic design watches and kitchen equipment to bar and wine accessories. Explore our wide range to find the perfect gift for your beloved father.
Gift ideas and wishes
With our wide range of iconic design classics and home accessories, you can give a Father's Day gift that creates joy and happy memories day after day, year after year. A personal gift that you've put thought into is an ideal Father's Day gift. A personal gift doesn't have to be homemade or break the budget. The most important thing is that you've thought of something and that it's given with love. Look at what he likes and if there's anything he needs in his everyday life. Maybe his favourite mug is getting worn out, or perhaps he loves his morning coffee and would therefor be grateful for a to-go mug so he can take his coffee with him in the car in the morning on his way to work. You can also opt for a timeless design, which always makes a great gift. If you find a gift that you think suits your father's personality, the gift will be perfect.
When there's nothing he wants
Finding a thoughtful gift for the man in your life can be something of a challenge, especially if he doesn't want anything. You ask what he'd like, but no matter how much he reflects, he just can't think of anything that he needs. And then he utters those classic words: "yes, but I already have everything". But that's just something he thinks.
Fortunately, if you can't get the list out of him, we're here to help. It's a good idea to start with his interests and then take it from there. Maybe you've noticed that he's started to take an interest in cooking. Then he's sure to love some new salt and pepper mills, a new apron or a couple of beautiful new tea towels. These are some of the things you can't have too many of, and no matter how many kitchen accessories your father already has, he can probably always use some more. If he enjoys a glass of red wine after work, a wine carafe might be just the thing. If cognac is more his favourite tipple, you can find inspiration in our selection of drinking glasses. It will undoubtedly be a great gift that captures his interest.
It's the thought that counts
Gifts don't necessarily have to be expensive or big. The vast majority of fathers will just be happy that you're thinking of them, and this is more important than receiving a large or expensive gift. If the gift is personal, they'll also appreciate it alone for that reason. In fact, it makes you just as happy to give gifts as it does to receive them. It can actually give you just as much, and often more, joy when you have bought a good gift and give it to someone you care about. It's the 'art of giving' and you'll experience this when you spread happiness with your gift.
We'll help you find just the right gift for your father and create something special for you to show him how much he means to you. Once you've bought the gift, you can wrap it nicely so he can see that you've really made an effort. Enclosing a card with a personal greeting is the finishing touch, and you're guaranteed to make him really happy on Father's Day.
Find the perfect Father's Day gift at Rosendahl.com
Looking for a thoughtful Father's Day gift? At Rosendahl.com you can find a large selection and great offers on home accessories in all shapes and sizes. Be inspired by the wide selection with beautiful details and an iconic design heritage. We offer you free delivery for purchases over DKK 399 and fast delivery in just 1–2 business days when you shop at Rosendahl.com. If you change your mind, you have a 30-day free return policy. Find inspiration in our wide universe of iconic and renowned Danish home furnishing brands.
Delivery within 2–6 business days

Free shipping on orders from € 85

Extended right of return until January 23, 2024

Free gift wrapping with purchases from € 80
We preserve and develop Danish design icons so that both present and future products can be part of the brands that have helped create our Danish design culture.