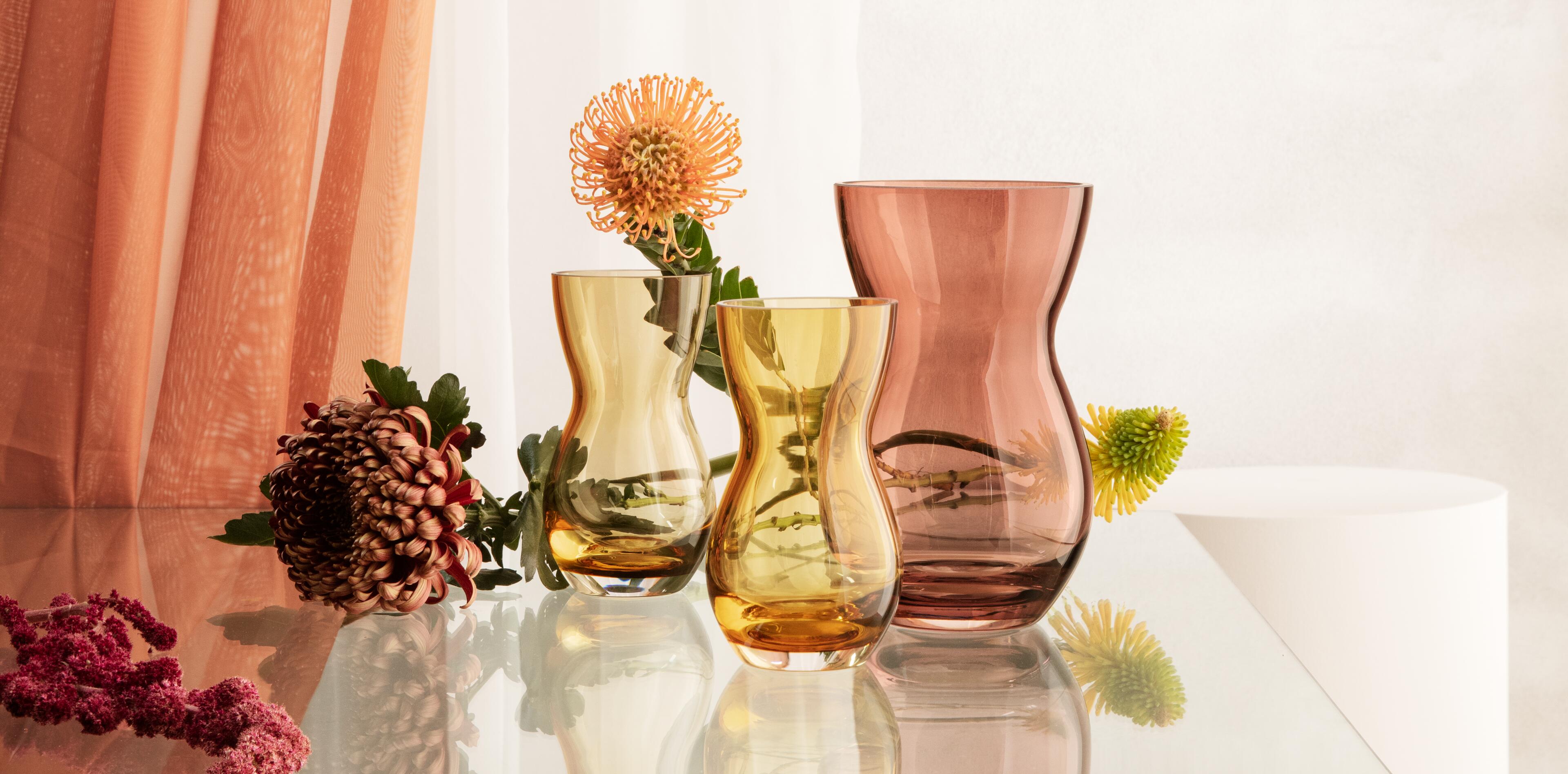 Decorate your home with beautiful Holmegaard vases

Holmegaard's vases are incredibly beautiful for flowers, branches or just as a decorative element on their own. Holmegaard is known for its production of very different glassware, including a large selection of incredibly beautiful Holmegaard glass vases.
Holmegaard produces both mouth-blown and machine-blown glass using the latest and most advanced production methods. Whether it's mouth-blown or machine-made glass, Holmegaard always represents high quality and elegant design. Each piece of mouth-blown glass is unique and handmade by the glassblower, who carefully blows the right amount of air through the narrow pipe. Mouth-blown glass from Holmegaard is certified with the Nordic Ecolabel. Many of the Holmegaard glass vases are hand-blown, which also means that each piece of mouth-blown glass is unique and handmade. Therefore, air bubbles in the glass are also inevitable, and luckily they only give the glass an extra charm and exclusivity to which mouth-blown glass is associated.
Vases are a lovely interior that can be used for many things, including flowers.  But most vases are actually decorative as they are. All of Holmegaard's vases are made almost entirely of glass, which gives them a special radiance and elegance combined with a fragility that makes them beautiful to have standing as part of the decor, whether there are flowers in them or not. You can find them in both coloured glass and transparent glass, depending on the style you want in your interior design. Use the glass vases to create a beautiful bouquet of flowers or use them to make beautiful decorations, or even as flowerpots. Most people love fresh-cut flowers in the home, as there's nothing quite like a bouquet of flowers or a plant to bring  nature, beauty and a sense of freshness indoors.
Holmegaard's glass vases come in many different shapes, sizes, colours and styles. The vases range from angular, cylindrical, with or without grooves to round and stout or tall and thin, to flower bowls and vases in coloured glass and transparent glass and much more. So you're guaranteed to find the right one for your home, interior and style. You can of course also mix and match the vases as part of your decor, such as by pairing a small and large vases together.
Holmegaard's glass traditions go back a long way and were actually founded by a woman who was ahead of her time. Holmegaard is based on the legacy of Countess Henriette Danneskiold-Samsøe, who was a remarkable woman ahead of her time. Not only did she follow her late husband's dream of creating a glassworks at Holmegaard marsh, but she also managed to transform it into an artistic and aesthetic world of design that is still relevant today. She did this all the way back in 1825, when it was not considered normal for women to be interested in founding companies – and certainly not without a man. However, it ended very well for Countess Henriette Danneskiold-Samsøe, who created a very proud tradition in glass production. Today Holmegaard is a Danish design icon and one of the most recognised names in Scandinavian craftsmanship traditions. But Holmegaard's cultural heritage is also the story of quality craftsmanship over time.
Add a piece of Danish design to your home with a Holmegaard glass vase.