Description
Product details
Shipping and returns
Gift Wrapping
If you, like us, are crazy about sustainable choices, and you give high priority to the environment, then you will love JUNAS WARDROBE. In JUNA'S WARDROBE you can find the fashionable outfits of the time. The selection consists of dresses, tops and trousers / shorts, which are made of JUNA's signature fabrics. The solid color Cube, Bæk&Bølge, the small-flowered Pleasantly and Monochrome, which feels like and resembles linen. Most of what we hang in JUNAS WARDROBE is made from surplus fabric from previous bedding productions. The fabric is produced in accordance with EU standards in 100% organic cotton, which is both oekotex and GOTS certified. JUNAS outfits can endures machine washing up to 40 °, which is not only gentle on the environment, but also on the clothes, which have a longer life at the lower temperature. At www.JUNA.DK you can see the entire JUNAS universe, woven up in the most beautiful fabrics. Both for bed and for body.
Bæk&Bølge is a range of high-quality bed linen in beautiful, natural colours, as well as casual wear made from waste fabric from previous bed linen productions, which are reworked into modern outfits to be included in JUNA's Garderobe range of especially dresses, tops, and trousers. Both the bed linen and casual wear in the Bæk&Bølge range from JUNA are made from 100% organic woven cotton, and are created in a simple and subtle design inspired by the authentic checked pyjama look.
Bæk&Bølge
You may also be interested in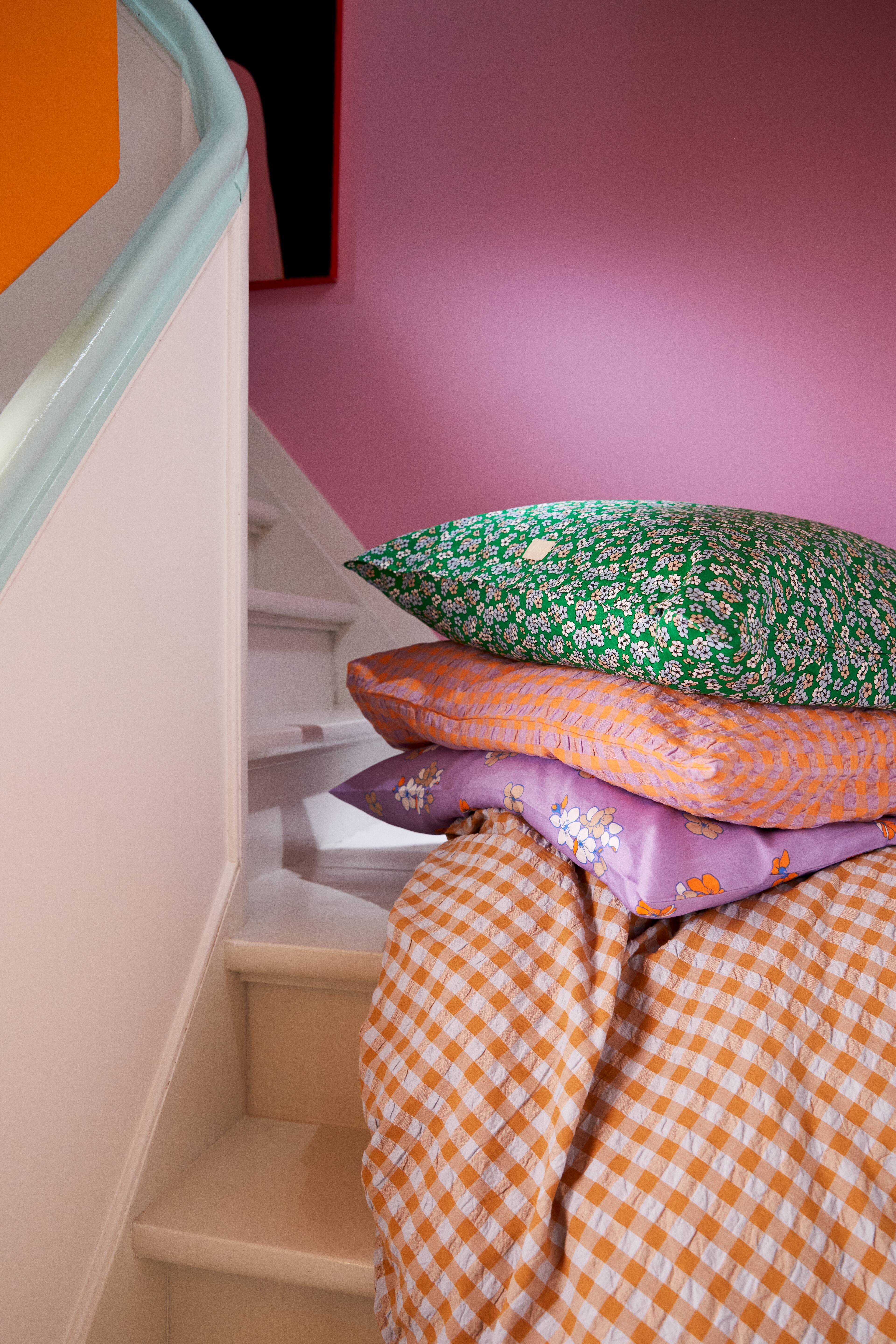 A colourful and responsible history
The history of JUNA
JUNA is an idealistic and visionary Danish textile brand with a colourful and responsible history dating back to 1972, when Niels Junager founded a small textile import company in Odense.

JUNA's product range consists of products for the bedroom, bathroom and wardrobe. And right from the very beginning, JUNA incorporated issues such as recycling, ecology and the responsible use of our shared resources as an active part of the brand.
Read more about JUNA here
Delivery within 2–6 business days

Free shipping on orders from € 85

Free gift wrapping with purchases from € 80
JUNA is part of Rosendahl.com

We preserve and develop Danish design icons so that both present and future products can be part of the brands that have helped create our Danish design culture.