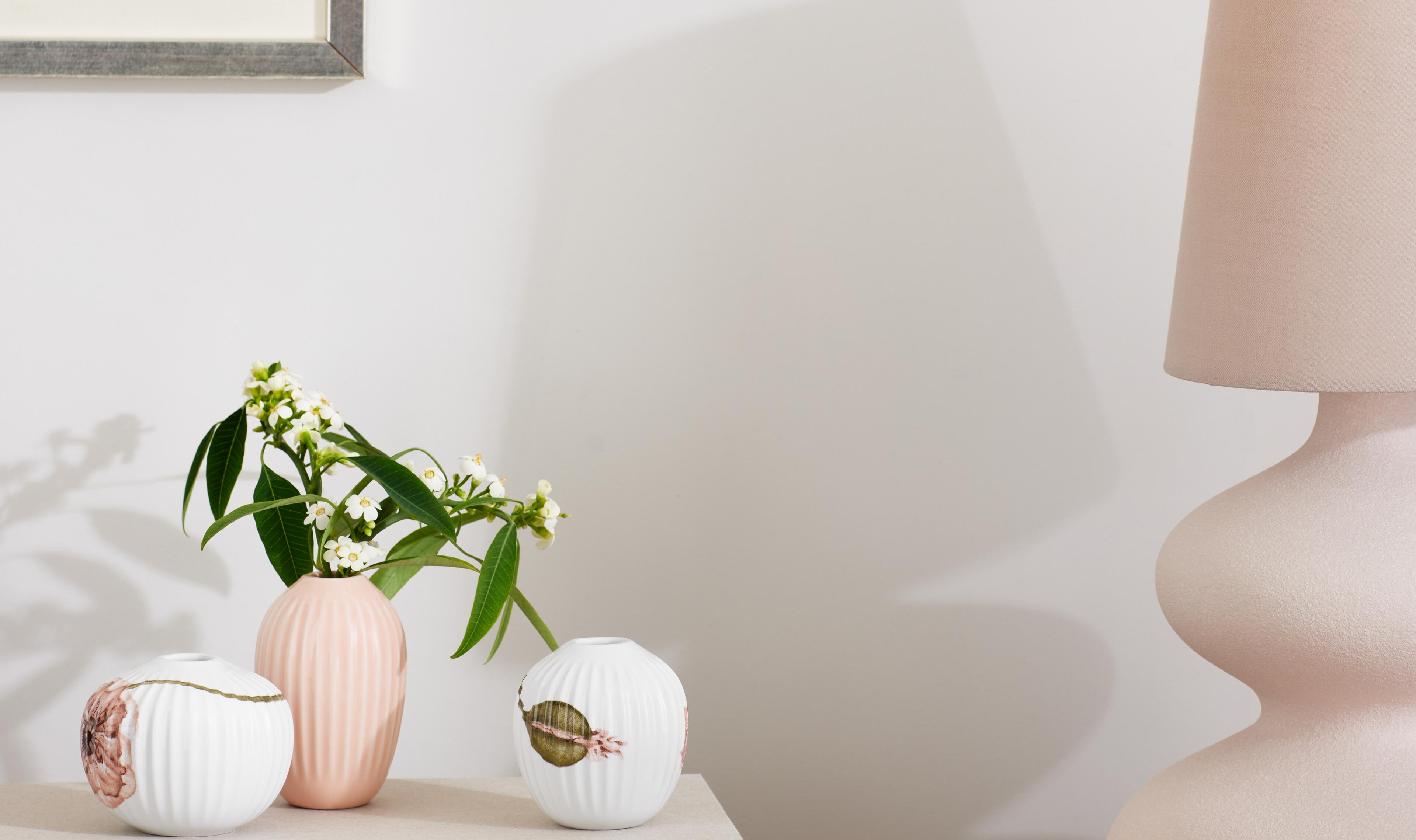 Make your decor extra special with Kähler table lamps in a Danish design.
Kähler's table lamps are part of the beautiful Balustre series. The Balustre series is known for its beautiful and organic shapes. An elegant, eye-catching and sculptural table lamp creates a unique and personal interior style. The lamps are therefore more than just functional objects, they are decorative objets d'art. Kählers Balustre table lamps are much more than just lighting in the home, they are unique designs, incredibly decorative and a beautiful design element in a true Scandinavian style. As mentioned, the common theme of the  Balustre series is the organic shapes and a tight and simple design, and this really accentuates the sensuous impression of the lamp. With these lamps in your home, you get artistic Scandinavian design of the highest class. And, of course, you get a beautiful light source wherever you put it. Let them decorate the windowsill, desk, bedside table or shelf. With its unique and beautiful expression, the table lamp can decorate almost any room in your home. The Balustre series contains lamps in different sizes, different heights and different colours, so you can find the lamp that suits your style and interior. All the lamps have beautiful shapes, natural colours and emit a cosy light.
Kähler is part of the Rosendahl Design Group – a family of design icons that can withstand endless use and admiration. The Kähler story began in 1839, and the handmade design traditions that have been developed since represent a modern and sensual tale of design, where everyone is welcome. Kähler is associated with a heritage of innovative glazes, creative designs and distinctive artistic collaborations. Kähler builds on a long tradition of artistic collaborations and craft traditions. The brand was founded in 1839 when Herman Kähler opened a ceramics workshop in Næstved. However, it was only when his son, Herman A. Kähler, joined the workshop that it became world famous for unique designs and artistic ceramics.
Since its foundation more than 180 years ago, Kähler has been known for its classic handmade design traditions. And the legacy continues to this day as Kähler still creates powerful impressions of the present built on the past. Even though Kähler has grown as a design collective with a wealth of related artists, the philosophy and approach remains the same as it has always been, namely that we continue to work with some of today's greatest designers and craftsmen. Craftsmanship, creativity and artistic collaborations have been part of Kähler's DNA since the beginning. And they still are.
It's what has made Kähler an iconic ceramic brand, one which has charted the course of Danish ceramic design. So you get much more than just good lighting with a table lamp from Kähler, you get Danish design history, high quality and a decorative element for your home.