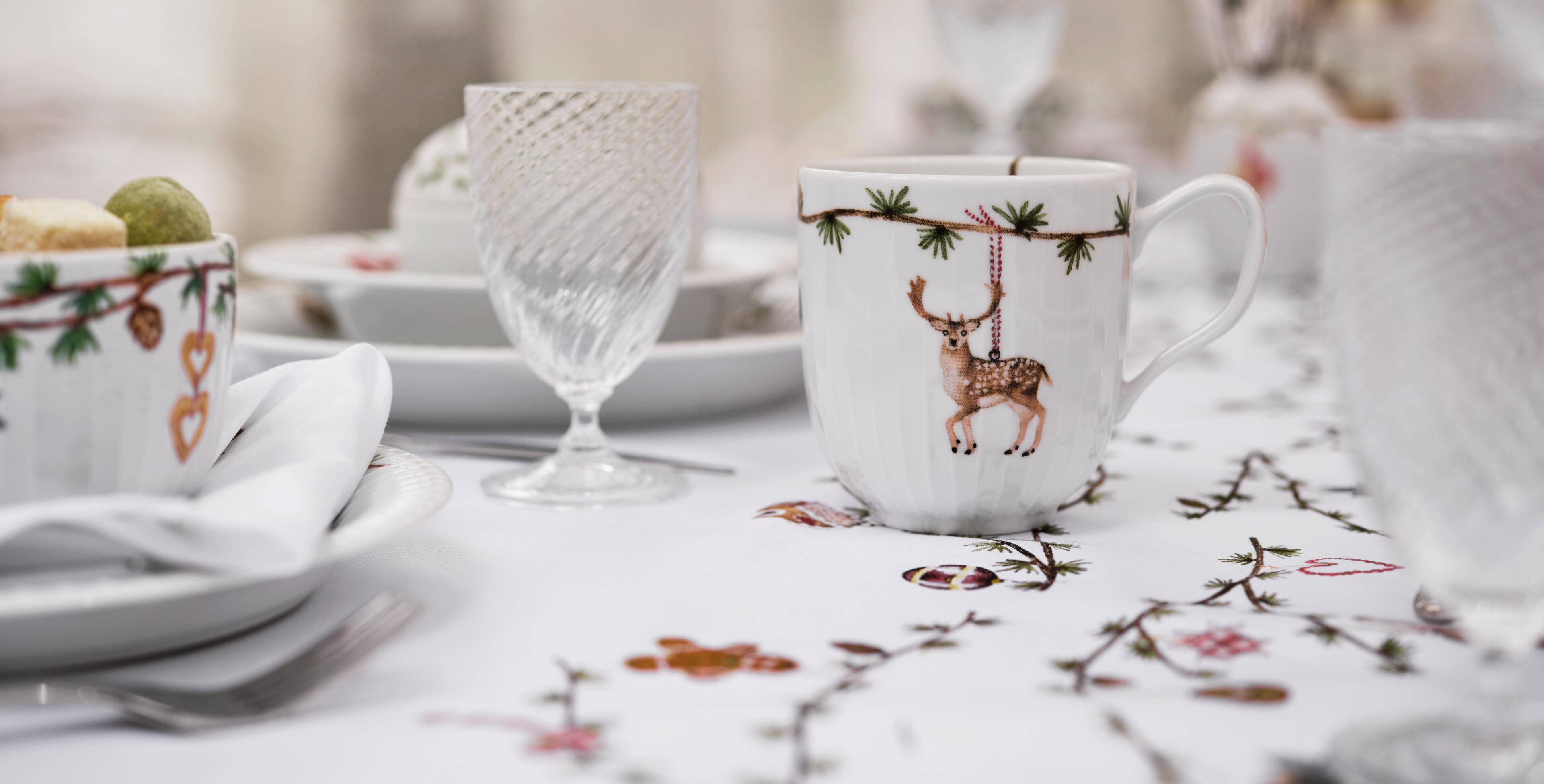 Set a beautiful and consistent table setting for your guests with a Kähler Christmas tablecloth.
A Kähler Christmas tablecloth is an important part of the Christmas dinner table setting, it forms the foundation of the table and can be the perfect finishing touch. So it matters what you put on your table at Christmas. Make sure you find a tablecloth that matches your style and interior design, decorates your table and matches your Christmas tableware. Kähler's Hammershøi Christmas tablecloth is ideal here. 
Kähler's classic white Hammershøi Christmas tablecloth is decorated with nostalgic Christmas elements, such as nutcrackers, drums, snowmen and Christmas hearts, and the green larch branch throughout creates continuity in the design. The Hammershøi Christmas tablecloth welcomes the Christmas season with a collection of the well-known illustrations from the popular Christmas tableware from the same series. The fine, detailed Christmas motifs were created by artist Rikke Jacobsen, who has used her characteristic illustrations to tell small stories about candy cones, angels, walnuts, birds, pine cones and stars. The Christmas tablecloth provides ample opportunity to create a perfect and complete Christmas table setting together with the rest of Kähler's Hammershøi series. 
The Christmas tablecloth is made of 100% cotton and can easily be washed in the washing machine. It comes in different sizes, so you can find the one that suits your dinner table. You can also add Hammershøi linen napkins, which are made of the same fabric as the tablecloth. The linen napkins also come with the fine and nostalgic Christmas illustrations that can be seen on the tablecloth. So it is possible to create a nice consistent look between the different textiles on the table, and your guests will certainly notice this detail and be impressed. So set a complete Christmas table with the Christmas tablecloth, Christmas napkins and Christmas dinnerware from Kähler's Hammershøi series. The holiday spirit is guaranteed.