Description
Product details
Shipping and returns
Gift Wrapping
FSC®
When you buy your Kay Bojesen Abe x Nørgaard paa Strøget on Rosendahl.com, you get a tote bag worth 16 € with the purchase. The tote bag is only available at Rosendahl.com. Valid while stock lasts.
Two of the most iconic milestones in Danish design history have joined forces to celebrate the smiling lines and cheerful stripes each of them has contributed to Danish design. The famous Kay Bojesen Monkey was created back in 1951 when Kay Bojesen wanted to make a coat hook at child's height so his children could reach their clothes. Instead, he ended up making a world-renowned Danish design icon. Now the iconic Monkey has got its own set of clothes. And what better suits a Danish design icon than another Danish design icon? The small Kay Bojesen Monkey x Nørgaard paa Strøget is made from FSC® certified teak and limba, measuring 18.5 cm in height. You can get Monkey with the beautiful painted Nørgaard paa Strøget #101 T-shirt in either this black with white stripes or white with black stripes. Both colours feature the well-known red neckline, which you can only find on #101 T-shirts in this exclusive Nørgaard paa Strøget version in the store on Amagertorv in Copenhagen. Kay Bojesen is synonymous with original Danish design. And the collaboration with Mads Nørgaard unites the love of durable and long-lasting products, while adding the playfulness and quirky quality that Kay Bojesen loved to add to his designs to spark the imagination and create original stories made of wood. The iconic Monkey in new clothes is a fun and unpretentious celebration of both design icons, where with a twinkle in the eye we come together to pay tribute to the humour and smiling lines with colours and stripes that go far back in Danish design history.
Variations may occur in the stripes, but that is only because each monkey has its own unique personality. This is because the stripes are carefully applied to each Monkey x Nørgaard på Strøget through a handheld process.
The Kay Bojesen monkey is a high-quality piece of craftsmanship that accompanies us from child to adult at every stage of our lives, and is also an incredibly popular gift for those you love. And with this cute figure, you don't just get classic Danish design from 1951.
You may also be interested in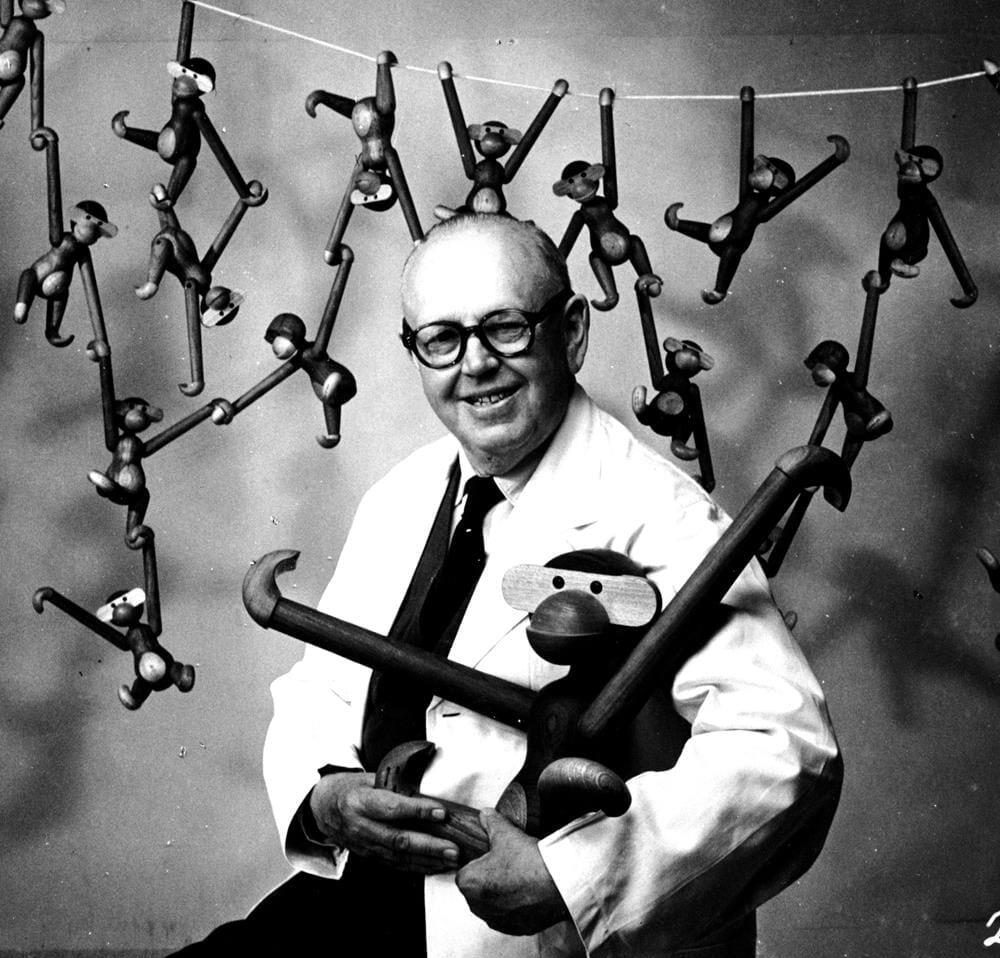 Original stories in wood
The
Kay Bojesen story
When the Kay Bojesen brand was founded back in 1932, it marked the start of a story about a craftsman with a great sense of humour and plenty of curiosity. Kay Bojesen created his animals and figures based on the philosophy that good design should be accessible to everyone, and over time Kay Bojesen has become synonymous with original Danish design.
Read more about Kay Bojesen
Delivery within 2–6 business days

Free shipping on orders from € 85

Free gift wrapping with purchases from € 80
Kay Bojesen is part of Rosendahl.com

We preserve and develop Danish design icons so that both present and future products can be part of the brands that have helped create our Danish design culture.