Description
Product details
Shipping and returns
Gift Wrapping
FSC®
A colourful original in a design that is both nostalgic and innovative. Kay Bojesen's iconic Monkey is a well-known and much-loved figurine that brings a smile to people of all ages. And the mini Monkey in beech wood painted in original colours from the archives is only going to make that smile bigger. The bright mini version is inspired by colours from an original wallpaper designed by Kay Bojesen in the late 1940s for the children's room. And you get a clear sense of originality and retro vibes in these dusty shades, which beautifully accentuate the cool tone of the beech wood. The Monkey in vintage blue measures 9.5 cm in height and is made of FSC® certified beech wood, which adorns the hands and feet, face and tummy and gives the new mini Monkey a cheerful and youthful air. The painted mini Monkeys sparkle with joy and ingenuity. With beauty and confidence, they bring Kay Bojesen's original stories made of wood into a new context. Yet the Monkeys remain iconic thanks to the classic colours from Kay Bojesen's original designs. As such, the mini Monkey makes the ideal fun accessory in a modern decor, where its quirky and colourful exterior will bring both style and a smile wherever you put it. A must-have for the design lover who has everything. Or for all those of us who can't get enough of Kay Bojesen's Monkeys and their cosy company.
The Kay Bojesen monkey is a high-quality piece of craftsmanship that accompanies us from child to adult at every stage of our lives, and is also an incredibly popular gift for those you love. And with this cute figure, you don't just get classic Danish design from 1951.
You may also be interested in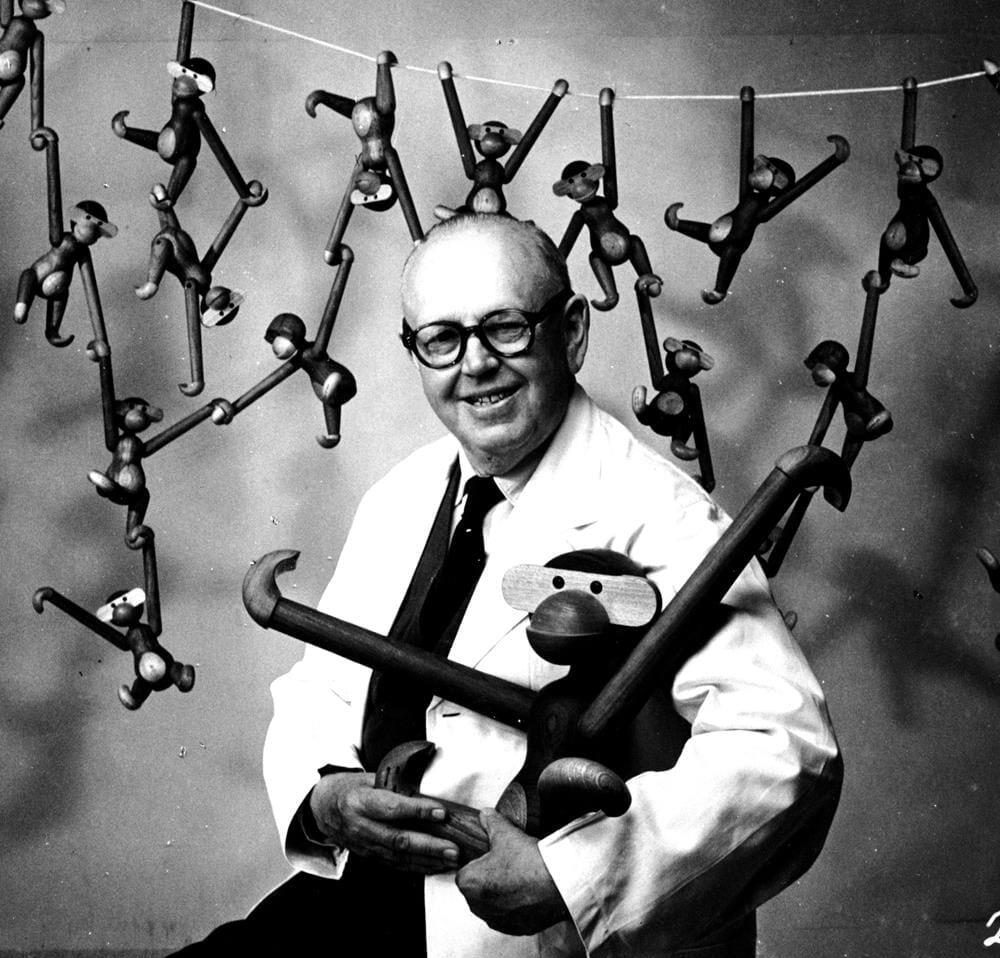 Original stories in wood
The
Kay Bojesen story
When the Kay Bojesen brand was founded back in 1932, it marked the start of a story about a craftsman with a great sense of humour and plenty of curiosity. Kay Bojesen created his animals and figures based on the philosophy that good design should be accessible to everyone, and over time Kay Bojesen has become synonymous with original Danish design.
Read more about Kay Bojesen
Delivery within 2–6 business days

Free shipping on orders from € 85

Free gift wrapping with purchases from € 80
Kay Bojesen is part of Rosendahl.com

We preserve and develop Danish design icons so that both present and future products can be part of the brands that have helped create our Danish design culture.