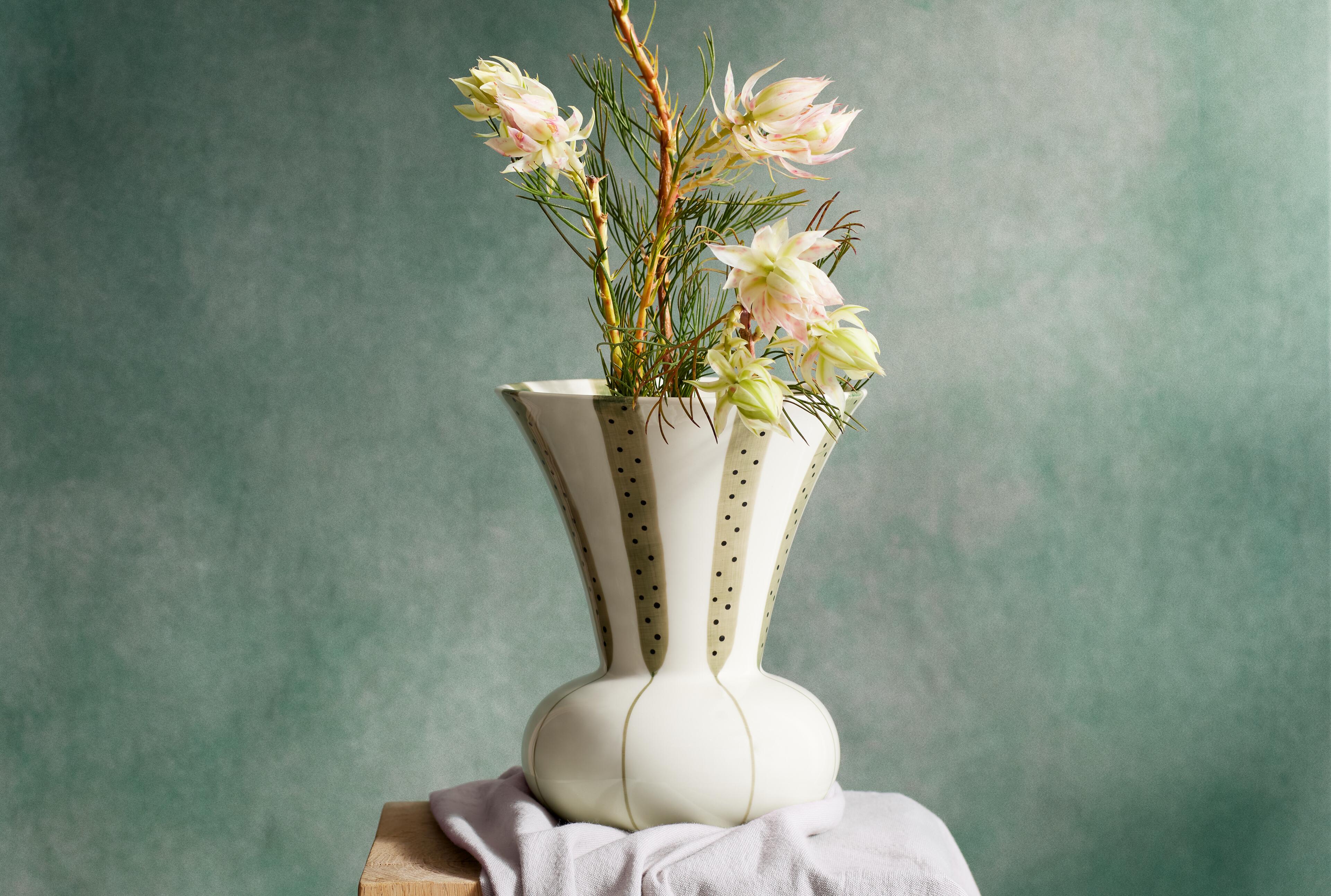 Beautiful vases for your home
Vases come in a wealth of colours and shapes and can be used in all kinds of different ways. If you need a new vase for your home, then you can find your new favourite here.


Which vase should you choose?
Vases come in a wealth of different materials, sizes and shapes. You can get stylish, plain vases that act as a blank canvas for your flowers and fit perfectly to the classic home, or you can choose a more quirky design that shows personality and humour. In addition to the design, size should also be taken into account. It's often practical to have vases of different sizes in your cupboard. There's a difference between how big a bouquet of flowers you have and what kind of flowers a vase goes with. Long-stemmed roses or lilies, for example, need a tall vase and will fall out if you try to put them in a small, chubby vase. A short-stemmed bouquet meanwhile will work best in a small vase that can be placed in any room of the house. From the bookcase to the window sill and the coffee table, or from the dresser in the hallway or on the dinner table, where it's small enough not to break the line of sight.


Vases from Rosendahl.com
You simply can't talk about vases without mentioning both Kähler and Lyngby. The Lyngby vase is loved for its minimalist and simple design that can make any bouquet of flowers or plant look elegant and opulent. Kähler has made several beautiful vases, but the Omaggio vase, with its well-known stripes, has become a design icon in Denmark that graces a great many homes. Even though Lyngby and Kähler have created iconic designs, our range also includes plenty of other stunning vases for you to decorate your home with. For example, if you're into a charismatic and quirky design, you'll love the vases from Bjørn Wiinblad, which can't help but put a smile on your face.
Take a look around the page to find the vase that best fits your home. You can find vases in glass, porcelain, faience and stoneware, in a wealth of beautiful colours that are easy to combine with most interiors. The vases come in different sizes, so you can choose from everything from small vases that can be placed on a shelf in the living room to large floor vases that are more robust. Find inspiration here on this page. 


Decorate your space with vases
Our homes say a lot about us, even the smallest details. It coud be the choice of colours, but we also show our individuality though our furniture, interiors and decorative elements. There are many ways to add personality to your interior design. Naturally, the larger pieces of furniture such as a sofa, coffee table, dining table and chairs are common to almost every home. But it can also be the more decorative elements that can add a personal touch and make you feel at home. For example cushions, throws, posters on the walls, lamps and decorative items such as candle holders and sculptures. You can furnish your home any way you like, and often it just takes a little change to get the expression you've been dreaming of. If you're looking for a relatively easy way to refesh your home decor, a vase from Rosendahl.com is an obvious choice. Vases are functional and can be used in a wealth of ways. Most of us associate the vase with beautiful bouquets of flowers, which makes sense as this is what vases are designed to do. But beautiful vases can easily stand alone and decorate your home, even when you don't have fresh flowers in the house. You can place a vase in any room in the house you wish, which makes it easy to move around if you decide to redecorate at some point.


How to use your vases
The vase is designed to display beautiful flowers in your hallway, living room or kitchen, for example. You might take it out every time you receive flowers, either on Valentine's Day, Mother's Day or your birthday, and after a couple of days dduring which the bouquet has decorated your home, the vase is cleaned and returned to the cupboard. If you have a beautiful designer vase, it's almost a shame that it gets so little attention. Which is why you might want to consider using the vase for many other decorative elements. It's very on-trend currently to bring nature into your home. Try picking up some twigs and fresh branches from your garden or morning walk, for example, to place in your vase. Gnarled tree branches are very popular to use, but you can also decorate according to season, so you can use spruce for Christmas and willow branches in spring, for example. When you use branches, you can adorn them with baubles and other hanging ornaments that will look great in your home.
Eucalyptus branches are also beautiful to put in a vase, both fresh and dried. The same applies to other dried objects from nature, such as reeds and feathers. It just needs a walk in the woods or along the riverbank, where you can find lots of great opportunities. If you prefer a bohemian look, you can use pampas grass, which is perfect for the bedroom, living room and hallway. If the vases are made of glass, consider using them without flowers or branches. Instead, fill them with shells in summer, Easter eggs in the spring, small baubles for Christmas and chestnuts or pine cones in autumn. This will give a unique and personal expression.


Plant pot covers make your decor personal
Like vases, pot covers are an obvious way to bring your personality into your decor. You can choose from many different designs and shapes to help you find the one that suits you and your home best. When you buy a plant pot cover, first consider which plant or flower you plan to plant in it. If it's a small plant, you'll also need a small pot cover. However, you should always choose a model that gives the plant room to grow, so don't choose the smallest size. If, on the other hand, you are looking for a flower pot for a large Monstera that will stand on your floor, then you're going to need a large model. It looks great when the home is decorated with a variety of pot covers in a mixture of shapes, sizes and colours. So take a look around this page and select the ones you like the most. 


Make sure to give your plants enough light
When you buy a plant, it's all about caring for it so that it grows big and strong, as that way you'll get the maximum pleasure out of it. So start by making sure that the plant is in the right place. The optimal surroundings for it to thrive varies from plant to plant, and is often stated in the care instructions for the plant when you buy it. All plants need light however, because light is life and has a direct impact on how quickly and how well your plant will grow. Never place it directly in the sun, but somewhere else in the home where it can get light. You can always move it around a little if it does not seem to be thriving.


How often should you water your plants?
Overwatering is probably the biggest cause of death for house plants. Especially in winter, when you can be afraid that the plant is not getting enough water – so we continue to water it just as much. With plants, however, the saying 'everything in moderation' is especially relevant, and you should not be too generous with the water. Just as with light, it's important to understand how much the plant needs. As a starting point, it's always a good idea to put a finger in the soil and take note of how it feels. Is it wet? Then wait. Is it dry? Then you should water it. To make it easy for you and the plant, you can water according to a schedule. For example, every Saturday in the morning or in the evening, so it becomes part of a routine.


The perfect gift idea
Vases and flower pot covers are wonderful for adding style and elegance to your home. This makes them particularly suitable as gifts. If you need a gift idea for Mother's Day, an Advent gift, a Christmas present or an anniversary gift, then both a vase and a flower pot cover makes an obvious choice. Our selection exudes Nordic design aesthetics and will fit beautifully into any modern home, which makes it compatible with the vast majority of home interior styles.