Description
Product details
Shipping and returns
Gift Wrapping
GOTS
JUNA Garderobe is filled with today's fashion-forward outfits made from the same organic textiles used for JUNA's popular bedding and can be used as sleepwear, summer wear and as part of a casual indoor wardrobe. The Sonja dress in checked Bæk&Bølge in blue/ocher has a loose fit and a comfortable cut, making it ideal for any occasion. It has a button fastening, side pockets, and the half-length sleeves give the dress a light and elegant look - perfect for a long winter weekend at home or summer days at the beach. The Sonja dress in Bæk&Bølge blue/ocher is made from 100% organic cotton that is GOTS certified and produced in accordance with EU standards. It is machine washable up to 40 degrees, which is not only good for the environment, but also for the clothes that last longer by using the lower temperature. Please note that the dress sizes run large.
Bæk&Bølge is a range of high-quality bed linen in beautiful, natural colours, as well as casual wear made from waste fabric from previous bed linen productions, which are reworked into modern outfits to be included in JUNA's Garderobe range of especially dresses, tops, and trousers. Both the bed linen and casual wear in the Bæk&Bølge range from JUNA are made from 100% organic woven cotton, and are created in a simple and subtle design inspired by the authentic checked pyjama look.
Bæk&Bølge
You may also be interested in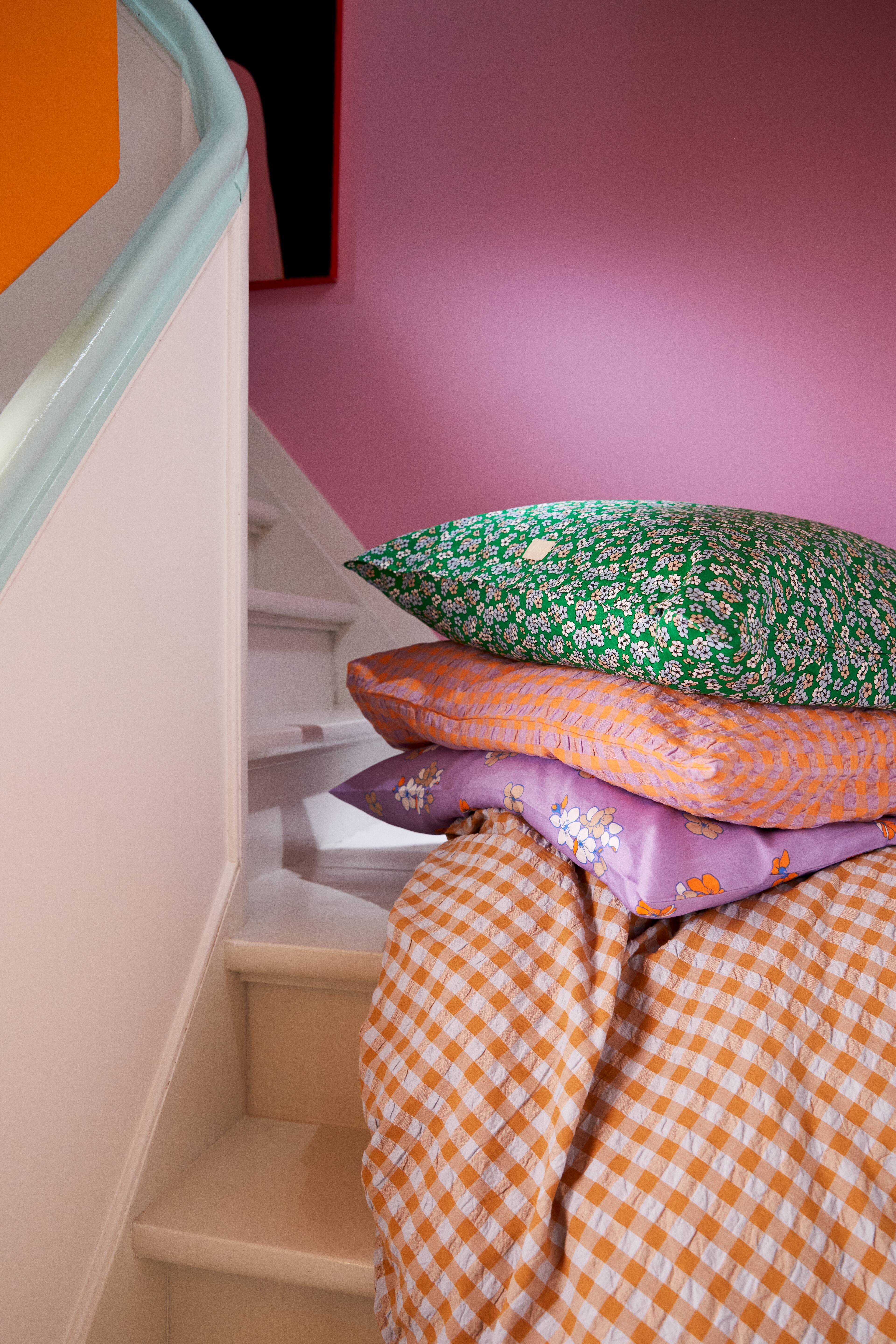 A colourful and responsible history
The history of JUNA
JUNA is an idealistic and visionary Danish textile brand with a colourful and responsible history dating back to 1972, when Niels Junager founded a small textile import company in Odense.

JUNA's product range consists of products for the bedroom, bathroom and wardrobe. And right from the very beginning, JUNA incorporated issues such as recycling, ecology and the responsible use of our shared resources as an active part of the brand.
Read more about JUNA here
Delivery within 2–6 business days

Free shipping on orders from € 85

Free gift wrapping with purchases from € 80
JUNA is part of Rosendahl.com

We preserve and develop Danish design icons so that both present and future products can be part of the brands that have helped create our Danish design culture.