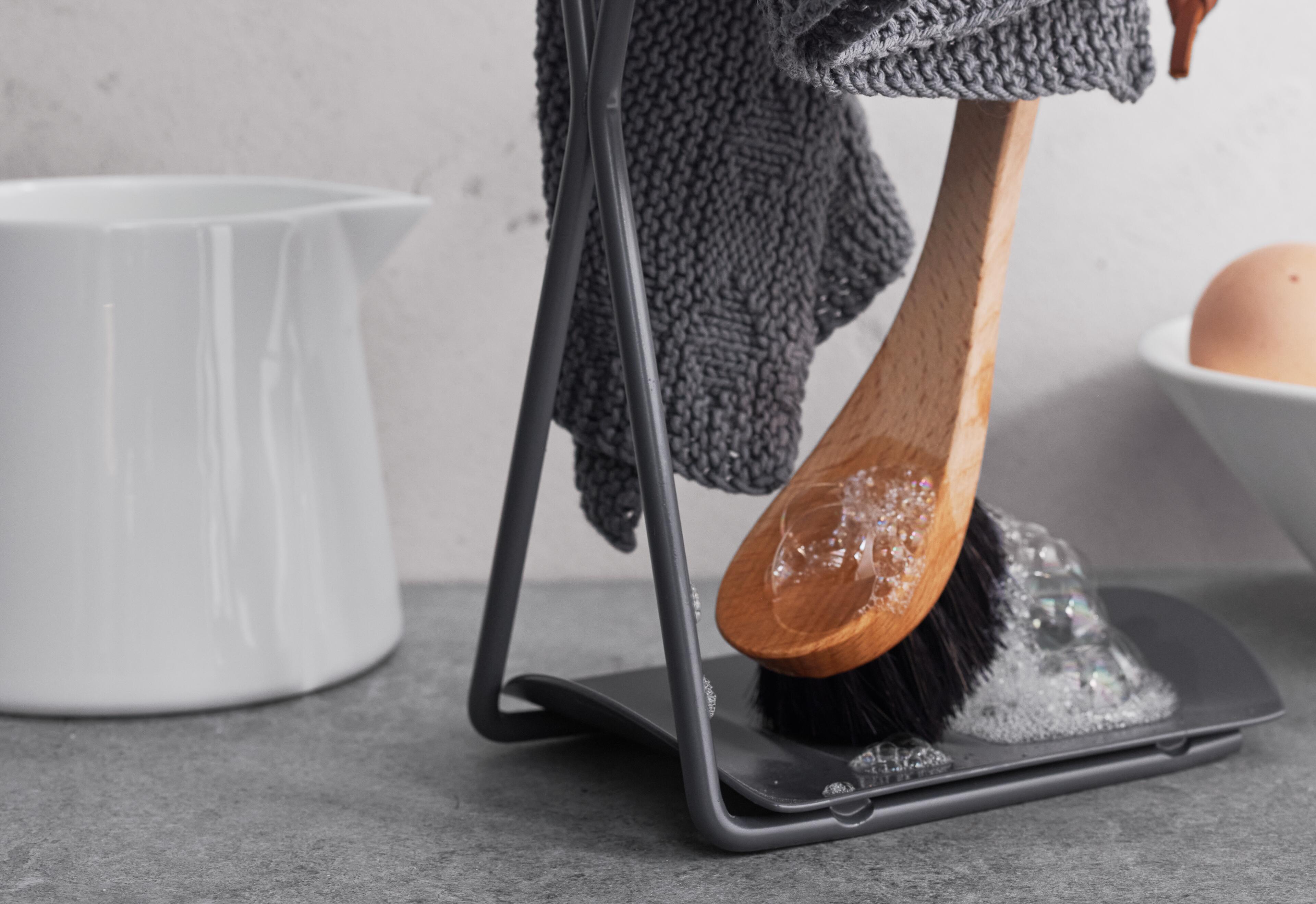 The best for your kitchen
Here are all the icons for the modern kitchen. Our kitchen products are used by professional chefs, amateur chefs, and everyday lunchbox heroes. At Rosendahl.com you will find what you need to use in a modern kitchen. From chopping boards and ovenproof dishes to tea towels, pot holders, and salt and pepper sets. Dive into our wide range of cookware from Rosendahl, Bjørn Wiinblad, Juna, Lyngby Porcelæn, Holmegaard, Kay Bojesen and Kähler. These stylish kitchen textiles, utensils, and kitchen equipment create a wonderful interplay that gives your home a beautiful look.


Choose the best cookware for your kitchen
When you cook, it's important to have good quality cookware. This applies regardless of whether your menu features lentil soup on a regular Tuesday evening, or a sumptuous feast for your guests over the weekend. As a rule, kitchen utensils should make it easier for you to cook. In fact, their most important task is to help you in the kitchen. But here at Rosendahl.com, we feel you should expect more from your kitchen equipment. We believe in high quality, that you can keep for many years, and which you will love to display on your kitchen table or keep in your kitchen cupboard. You need practical kitchen utensils, such as chopping boards and knives to cut, slice, and prepare vegetables. In addition, you need glasses or bowls to store both raw and cooked ingredients.


Kitchenware for cooking
The kitchen is the heart of the house. It's where the family meets to cook, eat, and talk about the day's events. This has only been reinforced by the fact that many new houses today have an atmospheric living room or conversation-enabled open-plan kitchen, to which the living room is often integrated. In the kitchen, you can bake with your children and entertain guests while pouring wine. You can also enjoy the scent of your food simmering, while allowing it to take the time it takes. Because while the dish is simmering under the lid, you can sit down around the kitchen island or kitchen table and enjoy a glass of red wine and a good chat while smelling the delicacies.
We spend many hours in the kitchen every week, which is why it is important to have high-quality kitchenware that is functional and beautiful. After all, you need to look at and use them daily, so their design matters. This applies to food preparation, cooking and baking. Planning on making lasagne soon? There's nothing like a homemade lasagne from scratch with freshly made bechamel sauce and layers of silky lasagne sheets and cheese. To make the dish, you need an ovenproof dish that can withstand the oven and also be taken directly from the oven to a well-laid table. Prepare the lasagne in an ovenproof dish from our range, which is not only durable and easy to clean, but also puts focus on the food while decorating the table. You can find ovenproof dishes from Rosendahl.com on this page. You can also explore our range and see if there is anything you need for your cooking. 


Kitchen equipment for the discerning customer
Good cookware makes cooking easier and more fun. That's why you'll find a large selection of kitchen items in our range. We have tools for everyday evenings when you want your cooking to be quick, as well as for those days when are able to spend hours in the kitchen to prepare culinary dishes for your guests and therefore want to create more of a splash. You use your kitchen equipment every day, which is why it is even more important that it lasts well. Kitchenware from Rosendahl.com is of the highest quality and is always created with a stylish, Scandinavian look that can withstand a bit of everything. We sell iconic designs that have put Denmark on the world map and been among the best-selling on the Danish market for many decades.
With high-quality design products, we make it possible for everyone to furnish their homes the way they wish. Both with timeless classics and new modern designs. Our kitchenware can be used for every occasion imaginable, and gives you something beautiful to look at every day. Our beautiful products only make you want to use your kitchen more, and spend cosy moments with your nearest and dearest.


Pamper your kitchen with beautiful textiles
At Rosendahl.com you'll also find kitchen textiles from our brands, which not only have a stylish look, but are also made from quality materials. These include dishcloths, tea towels and placemats made from fashionable colours and high-quality materials, which means that they will remain beautiful for years to come. Their timeless design makes them a beautiful addition to any kitchen. Several of our kitchen textiles are also made from 100% organic GOTS certified cotton, which is a recognised global standard that guarantees ethics and integrity throughout the supply chain.
You'll also find pot holders and aprons in our range, which give you a stylish design and ensure that you can safely lift hot pots and pans, both in the kitchen and when lighting up the grill outdoors. Our range also includes kitchen textiles that fit aesthetically well into Nordic design trends, and which exude simplicity and rustic design. Browse our aprons, pot holders, tea towels, picnic blankets, bread baskets, and placemats. You will also find kitchen utensils such as salt and pepper sets, and cutting boards, so that you can achieve a coherent and 100% rustic look in your kitchen.


Good storage solutions in the kitchen
A kitchen consists of many foods, utensils, and other miscellaneous kitchen equipment. This is the where we store most things in our homes, perhaps with the exception of our garages or sheds. When you buy pasta, rice, oatmeal or flour, you can choose to store then in their original packaging. Many choose this solution, as it is the easiest, but it does not add a decorative touch. Maybe you would like to display your oatmeal on a shelf together with the flour and sugar? Or do you dream of a pretty display of different kinds of pasta and rice? For this, you need a good storage solution that can both keep food fresh and display it in the best possible way.
On this page you will find several good storage options. For example, you could take a closer look at our storage jars, which come in varying sizes for storing all types of flour, grain and food. Displaying these jars together will decorate your kitchen. Holmegaard has also produced a beautiful storage series with measurement indicators, which make it easy to check the amount of product contained in the storage jar. In addition, you will also find bonbonnières and cake tins in our range.


Don't forget your kitchen accessories
If you're looking for kitchen accessories that add that final touch, we have what you need. A classic on any dining table and kitchen spice rack is the salt and the pepper set. This category has a wide selection, and you can therefore find grinders, as well as salt and pepper tubs, in several different designs and materials. If you prefer the Grand Cru range, you are guaranteed to love the popular grinder set, which is available in different sizes according to your needs. The grinder stores your spices whole and does not grind them until they are needed. This preserves flavours and aromas for longer, and gives you fresh pepper and salt when you need it. As a bonus, the grinder has a 25-year warranty.


Complete the look with a beautiful table setting
When it comes to stylish and functional cookware, practicality should not be its only feature. It should also look good when placed on the dinner table when guests arrive. Our kitchen items are created within different ranges, in which you will also find other products for the kitchen and table, and this makes it easier for you to complete your decor when you want to set the table nicely. The overall look is important both in the kitchen and on the dinner table, such as when plates match the ovenproof dish or pot holders that carry the dish in. It is the small details that combine to create a beautiful and inviting open-plan kitchen, in which you can spend time with your loved ones.


Let us help you
In our Rosendahl.com selection, you can find several products for your kitchen and table setting. Browse our full range of cutlery and serving items, or take a look at our dishcloths, pot holders and tea towels. We've got everything you need to set a beautiful and inviting table. We want to make  your cooking a little easier with the best cookware. Find your new kitchen items from our range and make your kitchen experience much more fun.