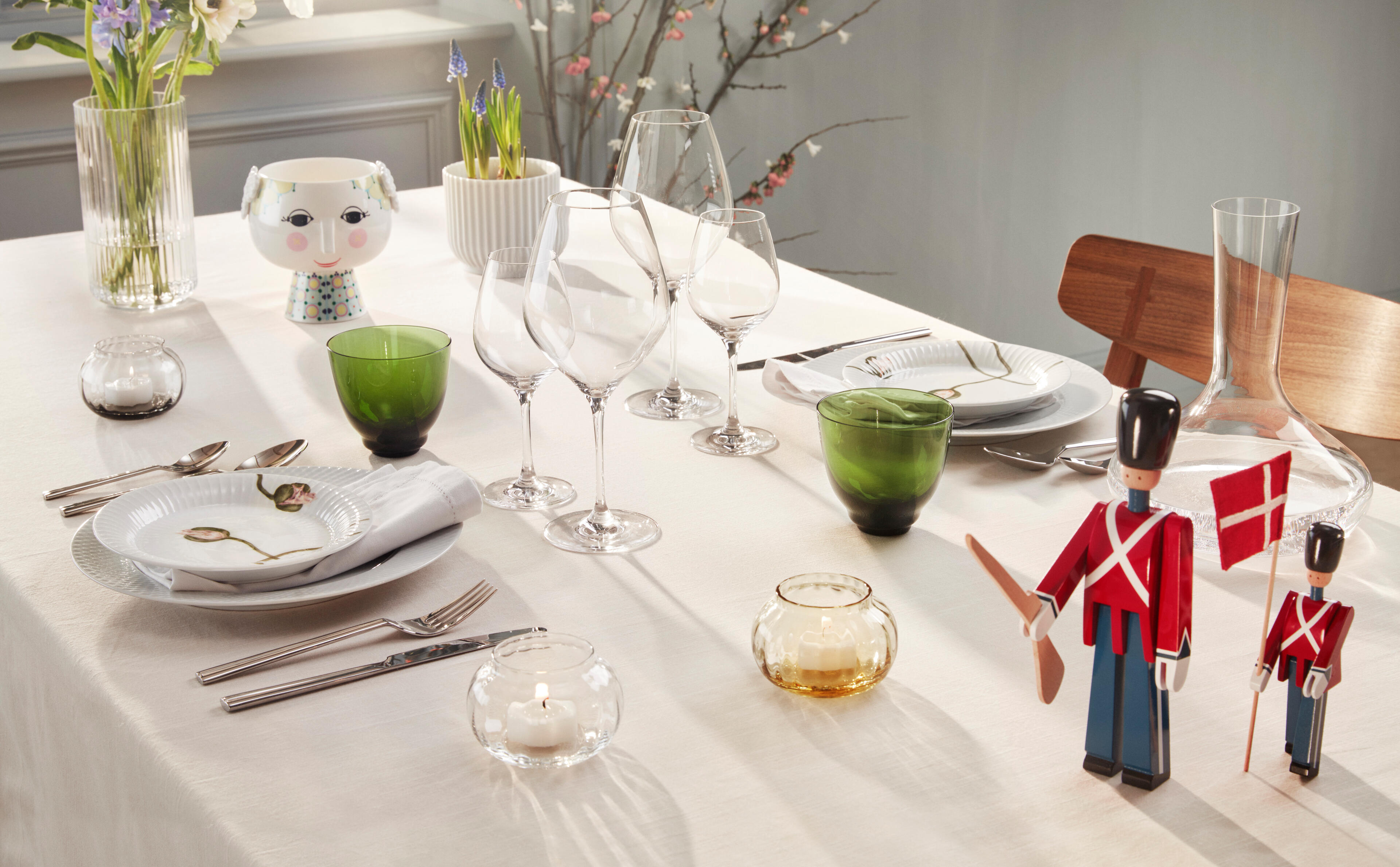 A guide to table settings
A beautiful table setting with beautifully arranged plates and decorations adds to the dining experience and atmosphere at the table. Perhaps you think you can easily set the table by placing a few plates, cutlery and glasses on the dinner table, and then it's done. But there is a big difference in how much you effort you invest in setting the table. In addition, it also matters whether you're entertaining guests or just have to set the table for dinner on a normal working day. Whatever you're into, you can find inspiration at Rosendahl.com. Here you can get everything you need for your table setting – both for everyday use and parties.


Beautiful table setting
A beautiful decoration and table setting is the crowning glory when you have guests visiting. It helps to ensure that the food is presented in the best possible way and that guests feel welcomed and well taken care of. That's why it's worth making that extra effort when setting the table. If you need ideas for how to arrange the table, remember that when you set a dinner table, you get the best results by giving it a personal touch. Do you like colours? Then decorate the table with colourful napkins or fresh flowers. Are you more into a clean, minimalistic look? Then stick to monochrome colours and simple decorations that don't dominate too much. The most important thing is that your personality as host or hostess can be felt in the table setting. This helps to create a cosy and pleasant atmosphere.
 
Table setting inspiration
When setting the table for guests, think about the season or whether it's a special seasonal holiday or party. For winter,  you can decorate the table with spruce and pine cones from nature to create a natural and atmsopheric expression. If it's Christmas, you can set the table with one of our beautiful Christmas tablecloths, which spreads Christmas cheer and a great atmosphere around the table. When it's time to set the table for summer, you might consider putting a bouquet of fresh flowers on tables to express the warm summertime. You can find inspiration for your table setting by browsing this page or clicking around our universe, which contains everything you need for a beautiful table setting.


How to set the table correctly
Not sure how to set the table correctly? Should the knife be placed on the right or left and in what order should the cutlery be placed? Rosendahl.com has a guide for you here on how to set a beautiful (and correct) table.
The first thing you need to do is find a lovely tablecloth that matches your table theme. A white tablecloth goes with everything, but if you're setting the table for  Easter lunch or Christmas, you can consider a matching yellow or red colour for the occasion. This creates a lovely overall impression. Then start by placing the plates with the largest plate at the bottom. The plate for the starter must be placed on the top. When laying the cutlery, the fork should be on the left and the knife on the right, with the cutting side facing inwards, so that you can't cut yourself on it. Place the dessert spoon above the plate. Now we come to the special rules for how to place glasses. As a starting point, the same idea applies with the guest starting from the right. Therefore, place the white wine glass furthest to the right, followed by the red wine glass and finally the dessert glass. The drinking glass should also be placed to the right of the plate.


The finishing touch – the table decorations
An attractive table setting goes a long way. But the essential element of a perfect table setting is the table decoration – and this is where you can really express your personality. Many people choose to decorate with objects from nature, such as flowers, branches or leaves. You can also make your own creations out of folded napkins or decorate with glitter, beads or something else.
On this page, you can find inspiration for table settings to create a beautifully set table that looks inviting and elegant.


Cutlery is an essential part of your table setting, both for everyday use and parties. Cutlery adds the finishing touch, and with us you can find cutlery sets, serving cutlery, forks, knives and spoons in the best quality and with a stylish appearance. When setting the table with cutlery, you need to consider if you'll be serving several courses. If so, you might need more than one cutlery set per person. Therefore, place the cutlery so that the guests start from the outside and move inwards as the courses are served.


Table setting – which glasses should you choose?
The glasses you need on the table depend on the occasion you're laying the table for. A bigger celebration like a wedding, confirmation or christening requires more glasses than a cosy dinner with friends. As a rule, you should always place water glasses and wine glasses by each seat. Maybe you'll also have dessert wine or sparkling wine. Or if it's a Christmas lunch or Easter lunch, you can place schnapps glasses on the table. If you have a home bar, you might like to impress your guests with drinks and cocktails that you mix yourself. You'll need long drink glasses or drinking glasses for this. Serve cocktails like a Martini or strawberry daiquiri with the best presentation by serving them in a cocktail glass with a small umbrella or a piece of fruit as a garnish.


Wedding table settings
Weddings are one of life's biggest events and should be fully celebrated with a beautifully set table. Do you have a theme for your wedding? Maybe you prefer an intimate and simple wedding? Or maybe you're dreaming of a lavish wedding and party where no expense has been spared? Either way, table settings and decorations should reflect your style, so there is a  feeling of consistency throughout the day and the party. 


Table setting for confirmations
There are many things to keep track of with a confirmation – clothes, hair and the creed. But how to set the table so it expresses your personality and makes your guests feel welcom? We can help you with that.
Napkins are an important part of the confirmation party table setting. You can use a paper napkin to make a pom-pom or fold it like a beautiful swan. You can also use fabric napkins and tie the place card with a rustic string for a personal look. It is normal to serve two or three dishes at a confirmation dinner, with both white and red wine. You should therefore set the table in the classic way and then add your personal touch to the table setting via the decoration.


New Year's table setting
In most countries chilled champagne is served when the clock strikes midnight. These days, dinner is open for interpretation, and you can serve whatever you like at this celebratory event. Most people serve two or three courses, consisting of a small starter followed by the main dish, which is often delicious meat, and then finish with a dessert. Various wines accompany the food and usually drinks after the meal, which you can find inspiration for in our bar and wine accessories.
How you choose to decorate the table is entirely up to you and your taste. You can keep the table setting simple and spice it up with a touch of gold glitter on the table and napkins in the same colour for a consistent theme. Classic decorations are gold, silver and objects from nature such as flowers and branches. You can also add small glittering stars and scatter them randomly across the table for a minimalist and atmospheric effect that lets the small details shine.


Baby christening table setting
Your little baby is going to be baptised and you've invited people to the christening. But how should you set the table to make the best impression, and allow the food to come into its own? A good starting point for a christening party is to start with a colour theme. If you have a boy, you can decorate with traditional light blue colours. For example, you can make a nice folded napkin and place it on the lunch plate to create a nice impression. A small place card at each seat is also a great way to add a personal touch to your table setting. If you have a girl, you can use pink or lilac to decorate a beautifully decorated table that expresses femininity. You can also go for a gender neutral table setting and choose neutral colours like white, green or earthy tones.


Find inspiration at Rosendahl.com
Need more inspiration for your table setting? Then explore our selection of table settings under categories such as plates, glasses, bar and wine. Rosendahl.com has everything you need for your next big table setting, enabling you to create the perfect table setting with your personal touch.
Delivery within 1–2 business days

Spend a minimum of DKK 499 and get free shipping

Free gift-wrapping
for purchases over DKK 799
We preserve and develop Danish design icons so that both present and future products can be part of the brands that have helped create our Danish design culture.