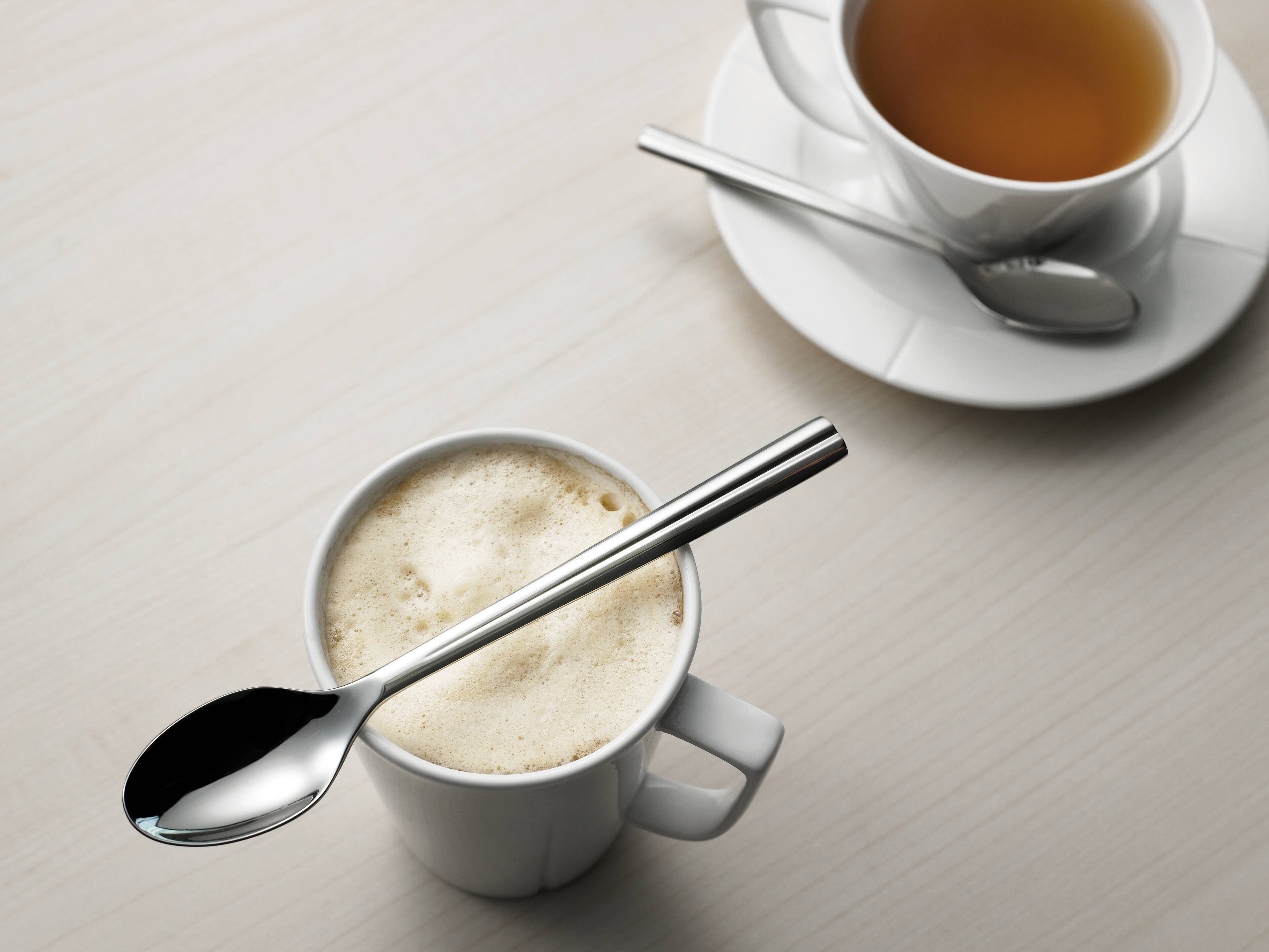 Elegant mugs for every meal of the day
The classic, elegant mugs from Rosendahl.com are perfect for any table setting. Use the fine mugs as coffee mugs or as a cup for an aromatic hot cup of tea on a cold day. 


Find the right mug
Need a few mugs for your morning coffee or a nice visit? We almost dare to promise that you can find one that suits you in our assortment. We have loads of mugs that can be used for both hot and cold drinks.
You will find mugs from Bjørn Wiinblad, Kähler, Rosendahl and Lyngby Porcelæn, among others, in a consistent designs that fits into the modern kitchen. The elegant mugs in our assortment are classic and will fit in with the rest of your tableware. Whether you prefer the stylish Rosendahl mugs or the classic Lyngby mugs, you get timeless design that adds a personal touch when prepare a lovely coffee or tea service. Our mugs are designed to be used in everyday life as well as for festive occasions when you want to make more of a table setting. If you only need one, you can easily buy them individually, but you can also find the rest of the sets in our assortment here in the online shop. 


Coffee mugs in vibrant colours and motifs
The coffee just tastes a little better when served in a nice mug, especially if it makes you smile because it's your favourite mug, or because you just enjoy the sight or feel of holding it.
For example, you can set the table with coffee mugs in vibrant colours. You can mix the colours yourself on the table when you have a visit and thereby create a personal coffee service that is guaranteed to attract attention. You can get mugs both with and without handles, and on this page you will also find coloured thermo cups that keep the drink warmer for longer while also warming your hands. When Christmas arrives, you can also enjoy a cup of coffee in a fairytale mug with beautiful motifs in the classic Christmas colours to turn up the festive spirit. A beautiful Christmas mug is guaranteed to bring joy to adults and children alike every year when the Christmas decorations are brought out. For example, you can make a cosy, Christmas-themed coffee service with Christmas mugs and bowls from the same line, and you can add a cake tin, naturally filled with delicious, homemade cookies, to the table.


Personalise your home
A mug can help add a personal touch to your home. Many people choose to have the mugs hanging on hooks close to the kitchen table, so they are close at hand. It has also become very popular to have an open cup shelf where mugs and cups are beautifully displayed. Some choose to have a single shelf, while others have open shelfing with small compartments for each cup. This works well with minimalist mugs that are kept in the same colour theme, but it is just as decorative with mixed cups and mugs in different colours and designs. You might want to consider having a coffee or tea corner in the kitchen where the small cup shelf hangs right next to the kettle, coffee machine or espresso machine. A crock of coffee beans or tea bags is ideal to have at hand. It lends an inviting, professional look, and the convenience of having everything you need in one place. Practical.


Mugs with and without handles
A freshly brewed cup of coffee to start the day with is a must for most Danes. Many people also enjoy a latte or cappuccino in the evening before bedtime as a good end to the day. Whether you're into coffee, cocoa, tea or other hot drinks, drinking from a good mug adds to the pleasure. We have a wide assortment of mugs, each one unique. You can get a beautiful mug with handles, created in an organic design and suitable for all the day's meals, from breakfast to dinner with guests. The mugs are available in porcelain, but also as handleless thermo mugs that keep the coffee nice and warm for a long time – and protect your fingers. If you are more into stoneware, you will find a beautiful stoneware mug on this page. Stoneware mugs are more rustic and can also be used in the microwave. 


Large mug for morning coffee
The mug is often a little more relaxed than the classic coffee cup, which traditionally comes with a saucer and is excellent for the fine table setting where the coffee is enjoyed at the table. The mug is made to be enjoyed anywhere. You can take the mug with you when you go out on the terrace to put the garden cushions on, or you can take it with you on the sofa and place it on the coffee table while reading an exciting Nordic roman noir. Another advantage of a mug is that it is often higher and can hold more coffee or tea. So if you're a coffee lover or a tea lover who just can't get enough of the hot drink, you need a large mug. Our mugs come in several different sizes to suit your taste and needs. The largest mugs are the perfect size for enjoying your morning coffee while reading the newspaper or looking out at the garden from the kitchen window. The smaller mugs, on the other hand, are well suited for a quick cup of coffee.


Lovely Christmas mugs
Is there anything more cosy than enjoying a cup of hot coffee or spicy mulled wine on a cold December day? We don't think so. That is why we have amped up the 'hygge' with our special Christmas mugs, which come in new designs every year with the finest Christmas decorations. You can get mugs that remind you of Christmas in the old days with motifs such as woven Christmas hearts and gingerbread men. You will also find less-decorated mugs that are simply sprinkled with falling gold stars, creating a feeling of magic and style that elevates the table setting from delicate to festive. The mugs are perfect for a Christmas coffee table or a New Year's table, but they can also be used throughout the year. A Christmas mug helps to contribute to the evocative Christmas season, where comfort and togetherness are key. It exudes a warm Christmas atmosphere and invites you to stay warm and cosy with hot chocolate or a mug of morning coffee. Our Christmas mugs are also created in lines that include complete Christmas tableware sets that contain everything for the dinner table, as well as kitchen textiles such as tea towels, Christmas aprons, linen napkins and placemats. Also look for platters, bowls and a sauce pitcher to complete your Christmas table setting.


The personalised gift
We all probably have one – a favourite mug. Maybe you use it every day for your morning coffee or evening tea. Perhaps it's just in the closet and is rarely removed, but it still has sentimental value because it was given to you by a special person or because it reminds you of your childhood. A good mug can be very enjoyable on a cold Monday morning in January. So small, but still, it can contain so much charm, character and nostalgia. For these reasons, a mug is an ideal gift idea for someone special. It shows when you have spent time thinking about a gift, and it is sure to be a gift that will please the lucky recipient.


Large assortment of mugs at Rosendahl.com
You can find many types of mugs here at Rosendahl.com. Whether you prefer classic white porcelain with a simple look or you are more into patterned mugs, you will find something here. We have thermo mugs, porcelain mugs, coffee mugs, tea mugs and stoneware mugs in different designs that can be used for everydae and for parties. You can also find other equipment for the coffee or tea service on this page. Just look under the categories of coffee pots, thermo pitchers, cups and cake platters – after all, afternoon coffee isn't complete without a small piece of cake.
You get a two-year breakage guarantee when you buy cups and mugs from Rosendahl.com. That means you will get a brand new, similar product if you are unlucky enough to break the mug. If you have any questions about our assortment, please feel free to contact us. We are ready to help and guide you to the right products.