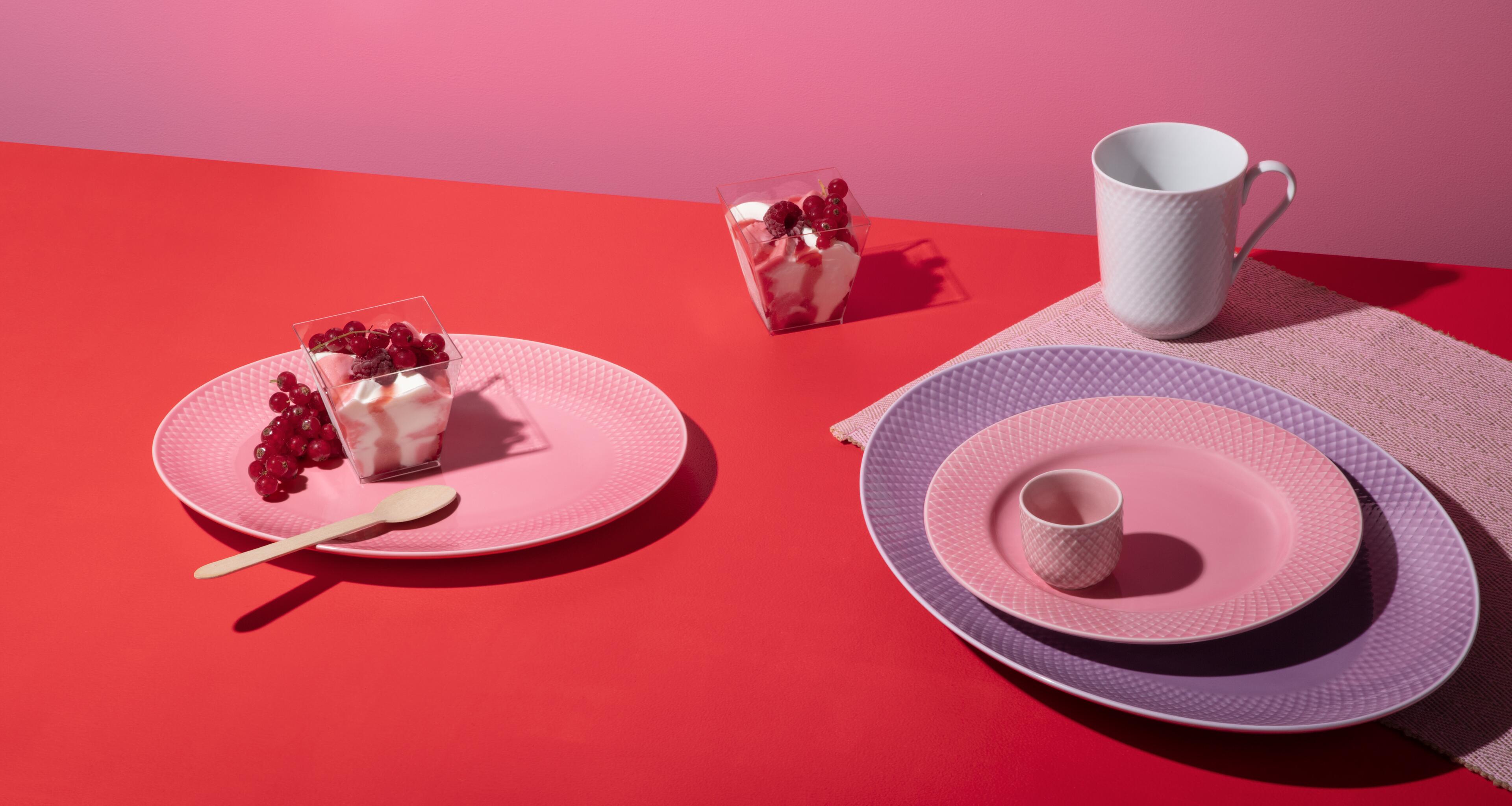 Placemats for all occasions
Practicality doesn't have to be boring. Our placemats combine elegance with functionality to help you make the most of table settings, even in everyday life. They are designed based on current trends, while also having a timeless look that never goes out of style. But a nice appearance isn't the only thing the placemats have to offer. They are also practical and functional, so you can quickly and easily use them in your everyday life. Most of them have a surface that is easy to wipe clean, while the underside is coated with foam, so that they lie better on the table.  Whether you want placemats in leather, cork or textile, or you prefer mono-coloured and patterned, or just plain or simple, Rosendahl.com has a large selection. 


Placemats for everyday use and parties
Placemats are a great invention that are practical both for everyday use and for special occasions when you are entertaining guests. Very few people use a fabric tablecloth for everyday use, as they are harder to keep clean and tidy. But you still want to protect your dining table from marks, stains and heat or cold from food and drink. The most important function of the placemat is to protect your table, but at the same time it can also match your tableware and dining table. So start looking for the right placemat for everyday use, in the highest quality and with a timeless design. Are you having guests for dinner? Placemats are hard to do without. You can use a design placemat in stylish materials and patterns to serve your delicious dishes in the most appealing way, and who doesn't think this is a wonderful bonus?


Ideal for families with children
Seeing children eat finger sandwiches or a bowl of porridge with a small baby spoon for the first time is a treat for the eyes. All the senses are activated and their curiosity is unmistakable. Children taste with their eyes, mouth and especially with their hands. They also like to test gravity and throw a plate or drinking cup on the floor to see what happens. Keeping things neat and tidy around the dining table can be stressful and frustrating for parents, and you have to be prepared to have a lot of patience. A plastic underlay under the high chair and a placemat are indispensable in such situations.
The placemat helps protect the table from flying spaghetti bolognese and damage from spoons being banged on the table. This is particularly helpful if you have a wooden table or a delicate tabletop that easily gets marked. Placing a placemat under the plate will help you relax when you eat, so you don't have to worry about stubborn stains and marks. Another great advantage of our placemats is that they are easy to clean. We have done this deliberately. You can easily wipe them with a wet dishcloth and put them away or leave them on the table until the next meal. We've made it easy for you.


Lyngby placemats
Lyngby offers distinctive placemats in GRS-certified recycled cotton and polyester. Using recycled cotton helps the environment and doesn't impact the planet's natural resources in the same way as virgin cotton. The beautiful napkins can be used for both classic white dinner services and colours, and they enable you to create a warm and personal table setting.


JUNA Placemats
Placemats from JUNA are designed to protect your dining table, while adding texture and colour to your table setting. You can choose between jacquard and canvas-woven models, which have a beautiful and timeless design. They contain acrylic, which makes them easy to clean with a damp cloth whenever you need to. The back of the placemat is covered with foam, which makes it lie nice and firmly on the surface. Juna placemats are created using a design process that encapsulates JUNA's philosophy of high quality and attention to detail. At the same time, you can easily mix and match them with the different table runners and tea towels from the same series. For example, you can combine a table runner with some placemats in beautiful contrasting colours, so that you and your guests can sit down to the table and be welcomed by a decoratively set table.


Rosendahl Placemats
Rosendahl offers placemats in a variety of materials. This includes FSC® certified cork, so you can be sure to buy a product that does not harm the environment. Cork is a hydrophobic material that allows any stains to be easily removed. You can also find placemats made from genuine leather that feature an embossed logo for a rustic look. The placemats fit perfectly into the Nordic design trend, which has become very popular in recent years and continues to be prominent in Danish interior design.  Jacquard-woven and OEKO-TEX®-labelled placemats with a protective acrylic coating will also look appealing on your dining table. In fact, you'll find them in many beautiful colours and patterns that not only protect your table in a stylish way, but are simple and decorative too.


Decorate with a nice table runner
A table runner can be used for all occasions, both in everyday life and for parties. It also looks beautiful on your dining table, even when it's not decorated. Many people prefer a relatively simple table runner for everyday use, which can withstand a little bit of everything, as it is used in a busy everyday life. We have incorporated both functionality and elegance into our designs. If you're looking for a table runner to combine with your placemats, you're sure to find the right one with Juna. Our designs are made to fit in with the modern Danish home, and they can easily be mixed and matched in differerent colours and materials.


Tablecloths in many designs
If you've invited some guests over and want to add a little something extra to your table setting, consider setting the table with a beautiful tablecloth. A tablecloth helps to create a formal yet relaxed table setting that is conducive for enjoying a cosy atmosphere. You can put your placemats by each seat to protect the tablecloth, creating a clear overview and clean lines on the dinner table. Using a tablecloth also saves you a lot of cleaning after the meal, and that's always an advantage, especially if you've been in the kitchen cooking and washing up for several hours. You can find many different colours, patterns and materials in our wide range of tablecloths on this page. Choose from over 100 beautiful damask tablecloths and organic cotton tablecloths with a light structure. You are sure to find just the right tablecloth for all the special events and seasonal holidays of the year.


Combine with beautiful tableware
All our placemats are designed to be mixed and matched with different tableware. In fact, this is one of the unique characteristics of our designs, because we take pride in making everyday life easier and more beautiful. You can choose to use the napkins together with simple everyday tableware, where they will complement the table setting. And the same napkins can be used when setting the table for guests. For these occasions, you might decide to add a tablecloth or a table runner to create more depth and elevate the aesthetics of the table.


Shop placemats online at Rosendahl.com
Looking for beautiful placemats to use when you want to protect your table from stains and heat? At Rosendahl.com you'll find many beautiful designs in different colours and textures, and you can choose any placemat you like that will soon be adorning your dining table. Our placemats are available in a range of sizes from 43x30 cm to 50x36 cm and come in packs of one or two. Explore our selection and be inspired by the many possibilities for finding practical yet highly decorative designs for your home. You can find your new placemat for the table here and add it to your basket, then proceed to the checkout to complete your order. Find your favourite gift and place your order today. It's soon on its way to you! When you shop at Rosendahl.com, you get free delivery for purchases over DKK 399 and fast delivery in just 1–2 working days. If you regret your purchase, we give you a 30-day free return policy.