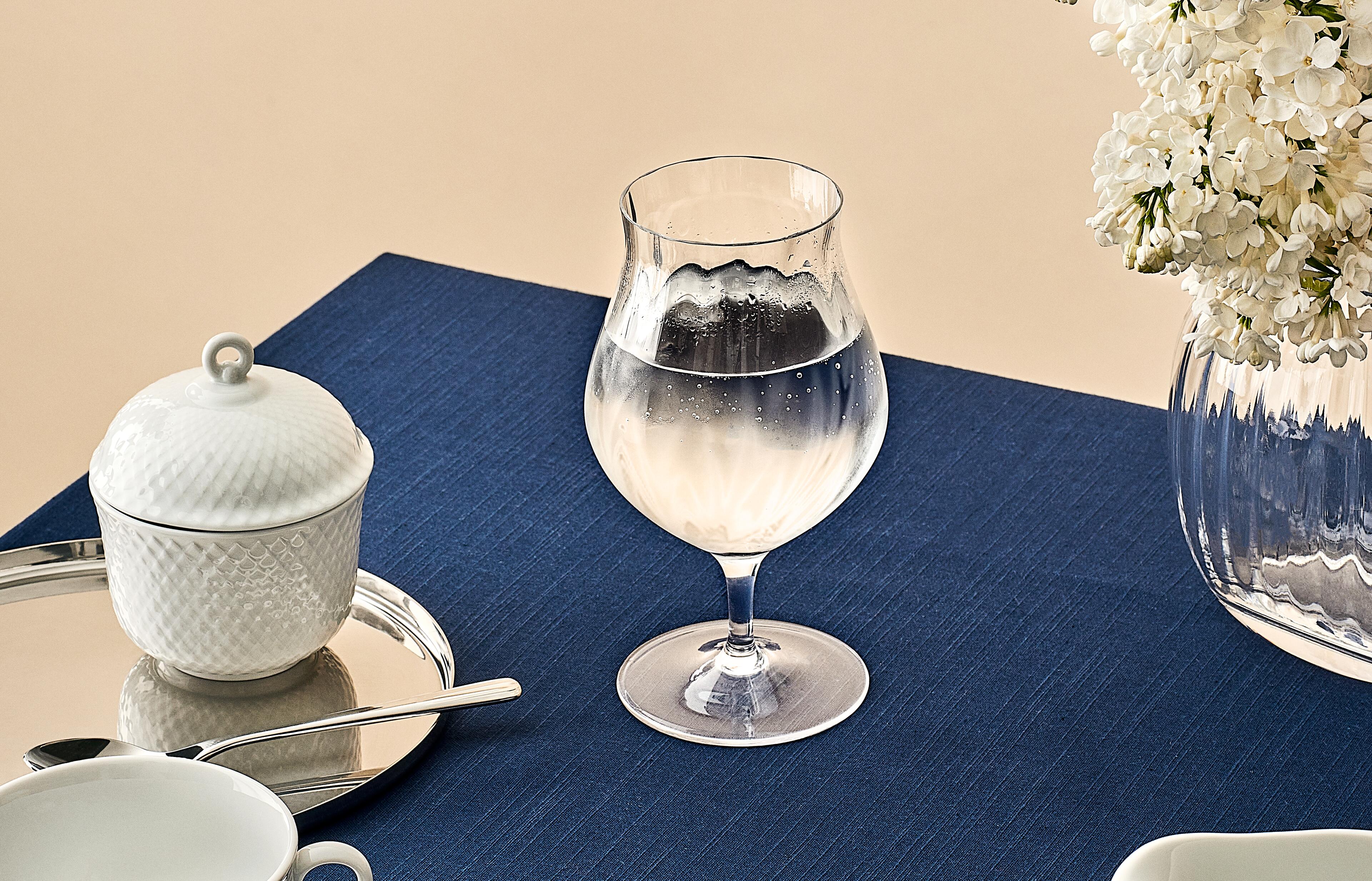 Beautiful water glasses make the drinking experience more fun
Looking for a new water glass to use for all of life's meals? Here, you can find our wide range of functional, simple and beautiful water glasses. Use them for water, juice and perhaps freshly squeezed juice, which you quench your thirst with in the morning, at lunchtime and in the evening. Our products are created so that there is a common thread that runs between them. This means that you have ample opportunity to find drinking glasses, wine glasses and drinks glasses that match your plates and cutlery. Have a browse of the page and let yourself be inspired to create a beautiful table setting.


Water glasses for the table
Glasses are essential and you can never have too many of them. This applies regardless of whether you live alone or have a big family. You use water glasses every day for all the meals of the day, and you may even prefer to have two different types of water glasses – one for everyday use and one for special occasions.
With our beautiful water glasses in the kitchen cupboard, it takes no time to set a beautiful table for both everyday use and festive occasions. If you're dreaming of new water glasses that can complement your table setting, from classic to rustic or modern, Rosendahl.com glasses are an ideal choice. Browse our range and find many glass collections with their own special nuances and characteristics. We have glasses in many different designs that fit seamlessly into the modern home. They can be used individually when you need a drink of water, but also together when setting the table. This makes it easy to choose the right ones, whether you're looking for a few extras to add to your existing collection or want to buy a whole new set. If you need carafes and water jugs for your table, you can find them here too – in matching designs from the same series if you wish.


High-quality drinking glasses
Glassware from Rosendahl.com is made of high quality glass to make it more durable. It's made to be used in everyday life, which is why our glasses are durable and robust while still looking stylish. So you can enjoy them for many years to come. The good quality also means that you can wash them in the dishwasher. Washing glasses by hand is a hassle if you have a dishwasher. It could mean that you don't end up using them as much as you would like.
Our range includes mouth-blown water glasses, where the glass blower carefully blows the right amount of air through the narrow pipe to create each glass individually. Drinking from a mouth-blown glass gives a special feeling, as you know it's a unique product.


Glass with elegant details
In addition to a shared high quality, each glass series from Rosendahl.com has its unique characteristics that can add character and personality to the table. The attractive shapes and functional designs give you versatility in how you use them. For example, you can choose a round drinking glass for lunch and serve water in a stem glass at dinner. Add a few ice cubes and you've got instant ambience. Stem glasses are ideal for elegant table settings, and just the small detail of a base and a stem can elevate the entire look of the table, especially on a grey February evening. With a couple of these glasses combined with a pair of beautiful plates and matching cutlery, you hardly need anything else on the table for it to look special and inviting.
 
The perfect match
Have you fallen in love with the classic Grand Cru water glasses from Rosendahl or glassware from another series? Most of our water glasses are part of a design series that includes other glassware and tableware. This allows you to set the table with water glasses and wine glasses, beer glasses or drinks glasses from the same series for a harmonious look. When the glasses match, it will create a common thread in your table setting. You can choose between different series, so you have matching carafes, water glasses, wine glasses, champagne glasses and drinks glasses. You can also add a personal touch by combining glasses in different colours or with a dinner set that you have inherited and which therefore has sentimental value. You can find many different sizes and shapes here on this page, so it's easy to find the glasses that suit your wishes. Take a look at the beautiful glasses and find your favourite.


Glassware from Rosendahl.com
On this page you will find water glasses in many different shapes, colours and designs. There are the classic straight-sided water glasses, which have a simple look and are ideal for everyday use. But you can also find round drinking glasses with an organic form and a more stylish and elegant design, which are effortlessly suited to a three-course dinner to mark a child's confirmation or christening. Rosendahl water glasses come with both grooves and clean lines, making them easy to stack and comfortable to hold. Look out for smoked glass, which is an exciting way to add a bit of sophistication to your table setting. We also carry water glasses from Holmegaard, which are ideal for bringing a dash of elegance in everyday life as well as for more festive occasions. If you prefer beautiful colours, you won't be disappointed when you see our selection of colourful water glasses in all kinds of shades. With them, you can set the table according to your mood and season. Try a green shade for Christmas, yellow for Easter and blue for summer to match the perfect cloudless sky. 


Get a beautiful table setting
When setting a well-arranged table for birthdays, Christmas or Easter, it's only natural to add something extra to your table setting. If you want to add a personal touch that makes the table stand out, it's often the small details that make the difference. And this is where glassware gets to shine. By choosing the right wine glasses and water glasses, you can elevate your mealtimes and pamper your dinner guests. Your glasses become an elegant link that completes your table setting. You can adorn your glasses with a paper napkin, or you can place a slice of lemon on the edge. You can also use coloured water glasses. There are many ways to decorate the table.
Perhaps you think that the water glasses and porcelain should not be receiving all the attention. Instead, let the table decoration be what catches the eye. You can create a beautiful natural theme and set the table with objects from nature, such as small twigs, pine sprigs and cones or flowers. The only limit is your imagination. On this page, you can find almost everything your heart desires when it comes to setting the table. If you need inspiration on how to set the table beautifully and what the right table setting is, you can also find a guide to this in our universe.


Preventing cloudy glassware
Oh, no. Your pristine water glasses have become cloudy and dull after a round in the dishwasher. What do you do? When your glasses become dull and are no longer gleaming and transparent, they may have developed what's called etching. Etching is the enemy of your glassware, and it is a condition that can affect all drinking glasses, regardless of their type and quality. Etching appears as milky white, cloudy streaks on the glass, and is actually silica that comes from the glass mass itself. Silica can form a film when you wash your glasses in the dishwasher at more than 60 degrees. So if you want to take good care of your drinking glasses, it's a good idea to use a washing program that only washes at 55 degrees. You can also do other things to prevent your glassware from becoming etched and cloudy. For example, it's wise to open the machine as soon as it's finished, as steam isn't good for your glasses.  You can also wipe the glasses with a tea towel, even if it means a little extra work.
If the damage has already been done and you've just discovered etching on your glassware, you might still be able to save your glasses. For example, try soaking the glasses in warm water with 200 ml citric acid or vinegar and plenty of washing-up liquid. Leave for a few hours or overnight and wash the glasses thoroughly before use. You can also try rubbing your glasses with a scouring sponge and possibly some washing-up liquid or glass ceramic steel cleaner, and see if this helps. Once the etching has worked its way into the glass, however, there is nothing you can do about it. Etching destroys the structure of the glass itself.