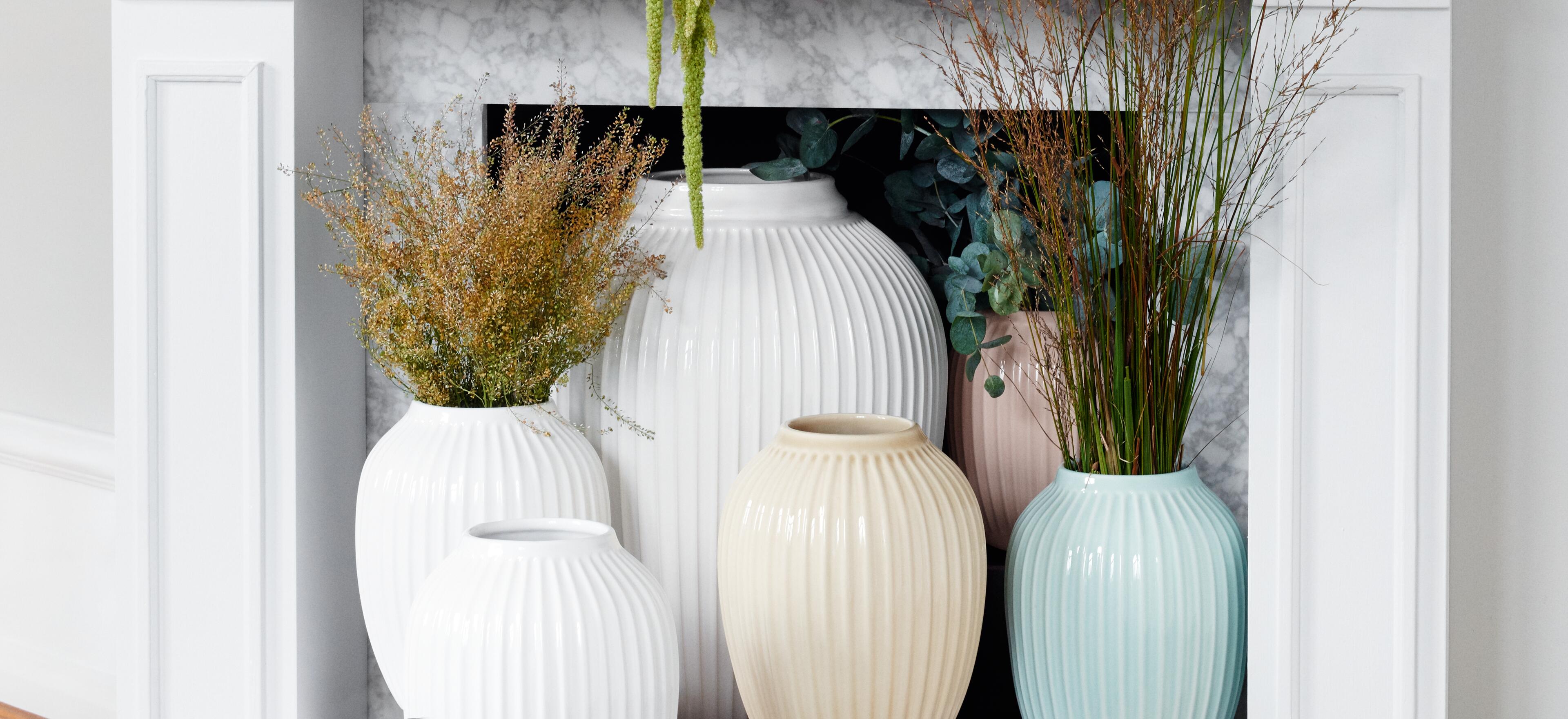 Decorate your home with beautiful Kähler vases.
You can't say Kähler without thinking about the iconic and beautiful vases. Danish homes are full of Kähler vases today, and with good reason. These beautiful vases not only decorate, they also add a stylish touch to your interior design, and they come in a wealth of colours, shapes and materials, making it easy to add some Danish design to your home, regardless of your style or coloru scheme.
Decorate your home with the iconic Kähler Hammershøi vase, which is beautiful with flowers or branches, but also without. It will complement any seasonal decoration but looks equally good on its own. The vases from the Hammershøi series come with the well-known grooves and are available in a wealth of colours, sizes and shapes. They also come in Christmas and Easter editions, so they are ideal for decorating your home at these special festive times.
Place the vase as a beautiful centrepiece on the dinner table or create a beautiful display with other Hammershøi vases on your bookcase. The soft, round shapes combined and beautiful grooved pattern help create a simple and modern look that fits perfectly into any home.
You can also add the lovely Hammershøi Poppy vase to your collection. It is decorated with a beautiful watercolour of a poppy, which comes in nude and green colours. It has all the Danish design elements in it – it's classic, stylish, Nordic and elegant. And the delicate flower adds a touch of grace. With the Hammershøi Poppy vase, you can renew the table setting, you can set the whole table with the Poppy tableware, or simply use the vase as a centrepiece. Your guests are guaranteed to be impressed.
Kähler is part of the Rosendahl Design Group – a family of design icons that withstand endless use and admiration. The Kähler story began in 1839, and the handmade design traditions that have been developed since represent a modern and sensual tale of design, where everyone is welcome. Kähler is bound together by a legacy of innovative glazes, creative designs and distinctive artistic collaborations, which is also evident in the vases.
Kähler builds on a long tradition of artistic collaborations and craft traditions and was born when Herman Kähler opened a ceramics workshop in Næstved. However, it was only when his son, Herman A. Kähler, joined the workshop that it became world famous for unique designs and artistic ceramics.
Since its foundation more than 180 years ago, Kähler has been known for its classic handmade design traditions. To this day, we still honour this heritage and clear reproductions of the present built on the past.
Decorate your home with Kähler's iconic, historic and beautiful vases and let in some Danish design.