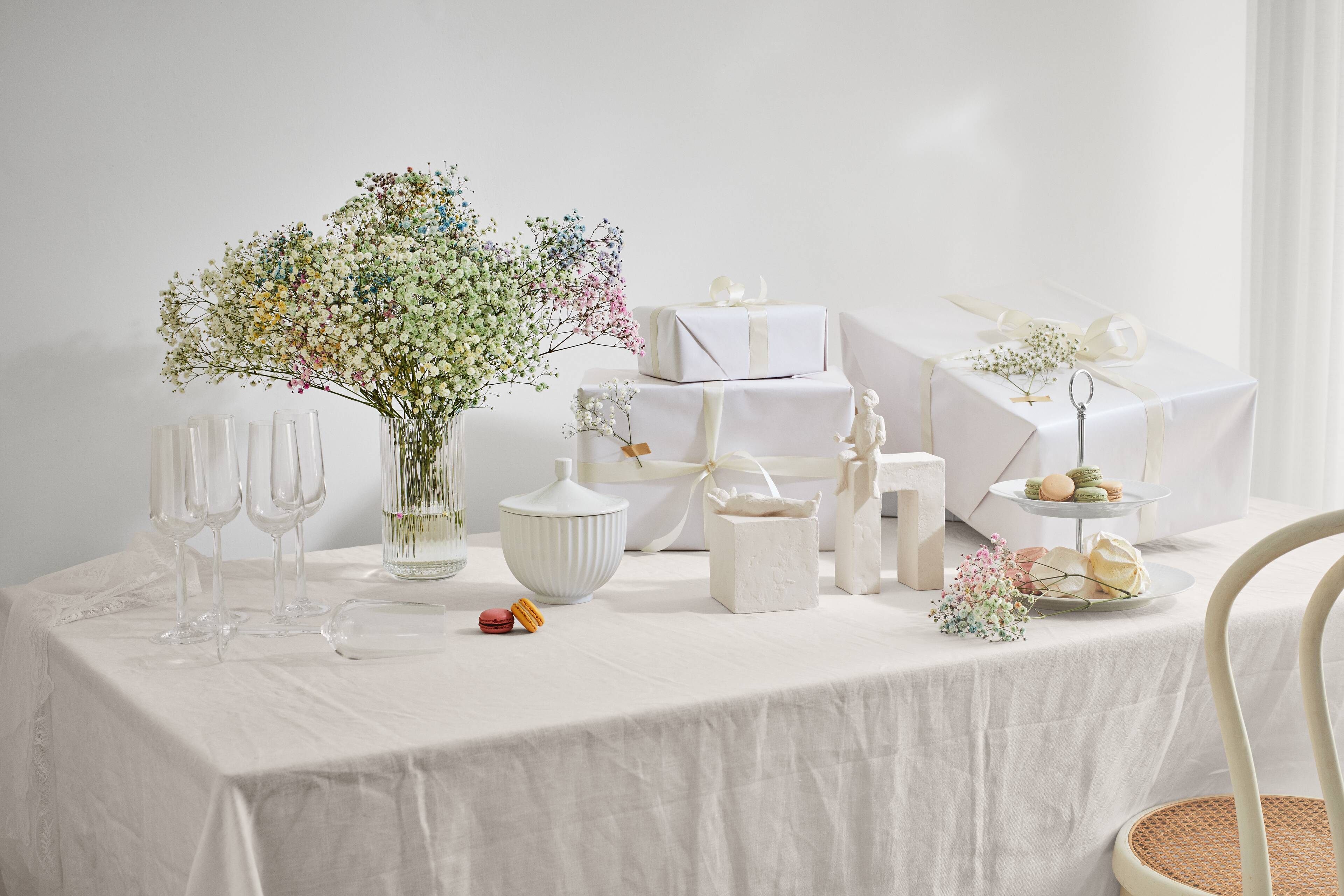 Find the perfect
Maternity gift

Gifts specially selected for maternity leave
With our wide range of Danish design classics and functional products, you can give a maternity gift that creates joy and memories day after day, year after year. We've gathered the best gift ideas to guide you to the right maternity gift.
Find the perfect childbirth gift
Do you know someone who is pregnant? Have you been invited to a baby shower? Going to visit a new baby? You can find the perfect childbirth gift at Rosendahl.com.
Someone you love has just had a baby, and now you want to treat the happy parents to a gift. That's kind of you. When a baby enters the world, it brings the greatest happiness to the new parents, and they'll be looking forward to proudly showing off the new little family member to friends and family. Our wide range of Danish design classics and functional products enables you to give a childbirth gift that creates joy and memories day after day, year after year. Surprise new parents with a thoughtful gift. You can find gifts suitable for design-loving and style-conscious recipients. Both small and large gifts. We've curated a selection of childbirth gifts to bring joy to the hearts and homes of your loved ones. Find inspiration right here.
Childbirth gift for the new mother
You go through a lot of feelings and thoughts when you are pregnant, and they only intensify in the time after you give birth. A little human being has come to life, and you now have to relate to being a mother and learn to put the child's needs before your own. If it is the first time you become a mother, it is undeniably a major upheaval. It's a happy time, and the baby brings tremendous joy, so there are many things you need to keep track of. You're unsure if you're doing it right, and as a new mother you'll feel tired and exhausted because you're often woken a lot during the night when your baby cries.
Becoming a mother is a massive life event, whether it's the first time or you already have other children. That's why you'll be extra happy when others show care and consideration by dropping by with a baby gift for Mum.
Baby shower
In recent years, baby showers have become popular for pregnant women. If you know someone who is pregnant, you may have already been invited. Baby showers originate from the USA, where you surprise the pregnant woman with a party with games, gifts and beautiful cakes. In many other countries, the pregnant woman often helps to plan the party, and in connection with this she may even have made a wish list. This will of course make it easier for you, but if she hasn't, we have a solution for you.
A baby shower gift and a childbirth gift can easily be the same. It's up to you whether you want to buy a gift that is aimed at the baby or mostly at the mother. You decide. As long as you have put your heart in, it will be a thoughtful gift that will surely be well received. On this page you can find plenty of inspiration and gifts for pregnant women, baby visits and baby showers.
Visiting the new baby
When the happy parents have come from the maternity ward home to their own secure surroundings and have had time to come down to earth, most people will appreciate a visit to see the newborn baby. It's a good idea to ask the parents first when it's convenient to drop by instead of coming unannounced. Many parents need peace and quiet during the first weeks, when the father has paternity leave . Many families want to spend this time getting to know each other, and naturally you should be considerate of this. Once things have calmed down, you can spread a little joy by bringing a childbirth gift or rather: a welcome gift for the new baby. Finding the right gift can be a difficult balancing act if you don't have a wish list. But this page offers gift inspiration with several wonderful gift ideas to choose from, and we're sure you can find something that the baby and parents will appreciate both now and in the future.  
Personalised gifts mean a lot
As new parents, you're busy thinking about your little baby, so you may find it difficult to get your daily chores done like washing clothes and cooking. So when you get a personal gift from a good friend or family member, you'll be extra happy. It really warms the heart.
Finding the right gift can be tricky. Of course, you want to find something perfect that the baby and the parents can use and are happy with. The most important thing is that you've put some thought into it. If the gift comes from the heart, it's sure to be well received. The most important task of a gift is first and foremost to delight the person receiving it. Therefore, it's a good idea to start by thinking how you can best create genuine happiness.
The perfect childbirth gift
Your friend, daughter, sister or sister-in-law has just given birth, and you want to visit her and bring a small gift for the baby. 
There is no tradition of what you should give as a childbirth gift. You can decide whether it should be a large or small gift. However, many people also hold a christening party where you might like to spend a little more money on the gift because you've been invited to a party. For many people, a childbirth gift is therefore a slightly smaller gift that makes the new mother happy. You might like to find a gift for the mother that focuses on her needs and wishes. It could be a decorative item for the home that can bring joy to everyday life every time she looks at it. For the baby, you could give a pram chain or a rattle, for example.
Childbirth gift for the mother
Finding the right childbirth gift can be a challenge. Consider giving a gift that the mother will enjoy and can use every day. This can be a big help in her everyday life. A childbirth gift will be a loving reminder that you were thoughtful and present when the family gained a new little member. You can choose to surprise the new mother with a high-quality design gift. For example, it could be a beautiful and decorative vase where she can arrange bouquets of flowers – as she'll probably get many of these during this time. If she's into specific tableware or glassware, you can also consider giving her something for her collection. Maybe a mug or a beautiful candleholder.
Childbirth gift for the father
We mustn't forget dad – he shouldn't be cheated out of a gift. Even though mum has been carrying and giving birth to the little one, it might be dad who has chosen to take paternity leave and should therefore enjoy this precious time together with the baby. Maternity and paternity leave at home goes so fast, so it's all about enjoying every day.
Maternity and paternity must be celebrated, and there are gifts to celebrate! The best childbirth gift always focuses on the needs and interests of the new father. It is therefore a good idea to think about what he likes. Does he drink coffee? A thoughtful childbirth gift for dad could be a big coffee cup where he can enjoy his morning coffee with junior. We humans always appreciate that others want the best for us and that the gifts we receive have really been consiered. Price is less important. It can be felt when you've put your heart into finding a thoughtful gift.
Childbirth gift for boys
A newborn baby doesn't need much more than milk in its tummy, clothes on its body and lots of kisses and love. Of course, this doesn't mean that there are no gift ideas for the baby. There are many, and here are a few suggestions for a good childbirth gift for boys. For example, this could be a teething ring for the small baby teeth. Another welcome childbirth gift for boys could be a small wooden figure from Kay Bojesen's iconic designs, which represent Danish quality design and will accompany the child through life. There is no doubt that the mother will also love this gift.
Childbirth gift for girls
There are many obvious, thoughtful gift ideas for the new mother – and our list also reflects this. If, however, you'd rather give a little gift to the baby, then the mother will certainly appreciate that too. A great childbirth gift for girls could be some nice, soft baby bedding. If you buy the bedding in 100% organic cotton, the mother will be extra happy and it will undoubtedly make dreamland the favourite destination for the little baby.
Delivery within 2–6 business days

Free shipping on orders from € 85

Extended right of return until January 23, 2024

Free gift wrapping with purchases from € 80
We preserve and develop Danish design icons so that both present and future products can be part of the brands that have helped create our Danish design culture.